China's Raising Rates. Good for the Yuan, Bad for Bonds
February 8, 2017 - Weekly Market Outlook
If China has a multi-speed economy — with different regions performing at vastly different rates — it may also be crafting a multi-speed approach to monetary tightening.
The central bank on Tuesday continued the campaign of tightening the nation's money markets that it kicked off late last year, this time by refraining from offering reverse-repurchase agreements for a third straight day, draining funds from the system. At the same time, evidence emerged that new bank lending in January neared — and might have beaten — a monthly record, according to people familiar with the matter.
By focusing the tightening on money-market rates rather than raising benchmark lending rates or issuing stringent orders to banks to rein in credit, the People's Bank of China is walking a fine line. On the one hand, policy makers are seeking to contain leverage and reduce speculation in financial markets. On the other, the Communist leadership is wary about hobbling growth in an economy already expanding at the slowest pace in two decades.
For investors, there may be two immediate takeaways. First, a reduction in leverage is poised to escalate pain in the bond market, which is already on track for a fourth month of losses. Second, higher money-market rates may help ease downward pressure on the yuan, and on foreign-exchange reserves that data Tuesday showed slipped below $3 trillion for the first time since 2011.
"The PBOC is sending a clear signal that it wants to control leverage but not hurt growth — that's why it raised the short-term loan costs but not the benchmark interest rates," said Tommy Xie, an economist at Oversea-Chinese Banking Corp. in Singapore.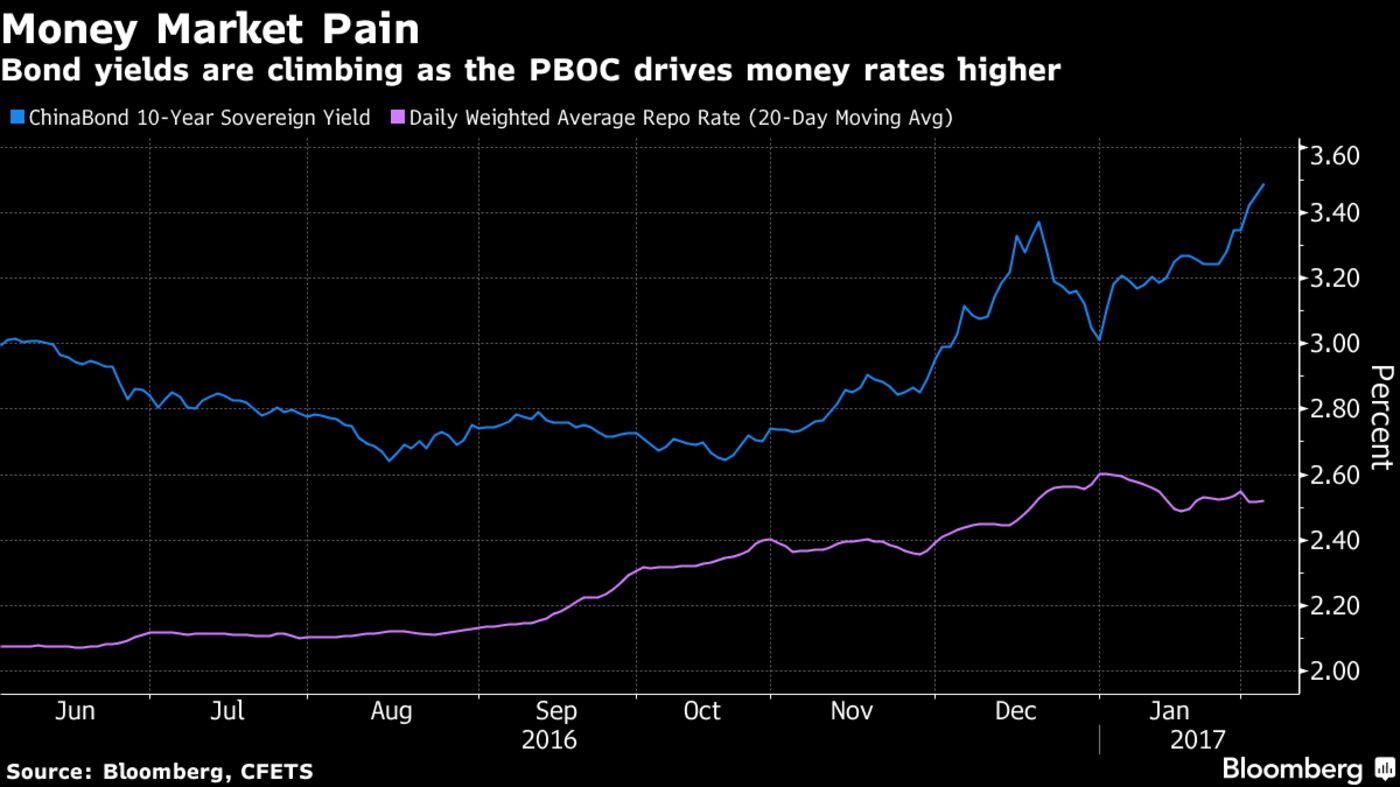 Bank of America Corp.'s broad China bond index retreated 3.1 percent in three months to the end of January, the first three-month decline since 2013. In the government bond market, 10-year yields spiked to a 17-month high of 3.49 percent on Monday, according to ChinaBond data, continuing a climb up from a record low in August.
"There's not much opportunity in the bond market now as the PBOC is determined to pull funds from the financial system," said Meng Xiangjuan, a bond analyst at Shenwan Hongyuan Group Co. in Shanghai. "Rate hikes are clouding market sentiment."
Evidence of stabilization in economic growth has given the PBOC the confidence to start tightening the screws when it comes to corporate leverage. With indicators from manufacturing to producer prices signaling a revival, the central bank has boosted the interest rates on its Medium-term Lending Facility, used by banks, and reverse-repurchase agreements.
"This is the first time that China kicks off a tightening cycle by hiking its newly developed money market policy rates, while leaving conventional benchmark rates of bank lending and deposit unchanged," Harrison Hu, chief greater China economist at NatWest Markets, wrote in a note Monday. "The policy effects will indeed be uneven, i.e. more to curb financial risks than to dampen real economy."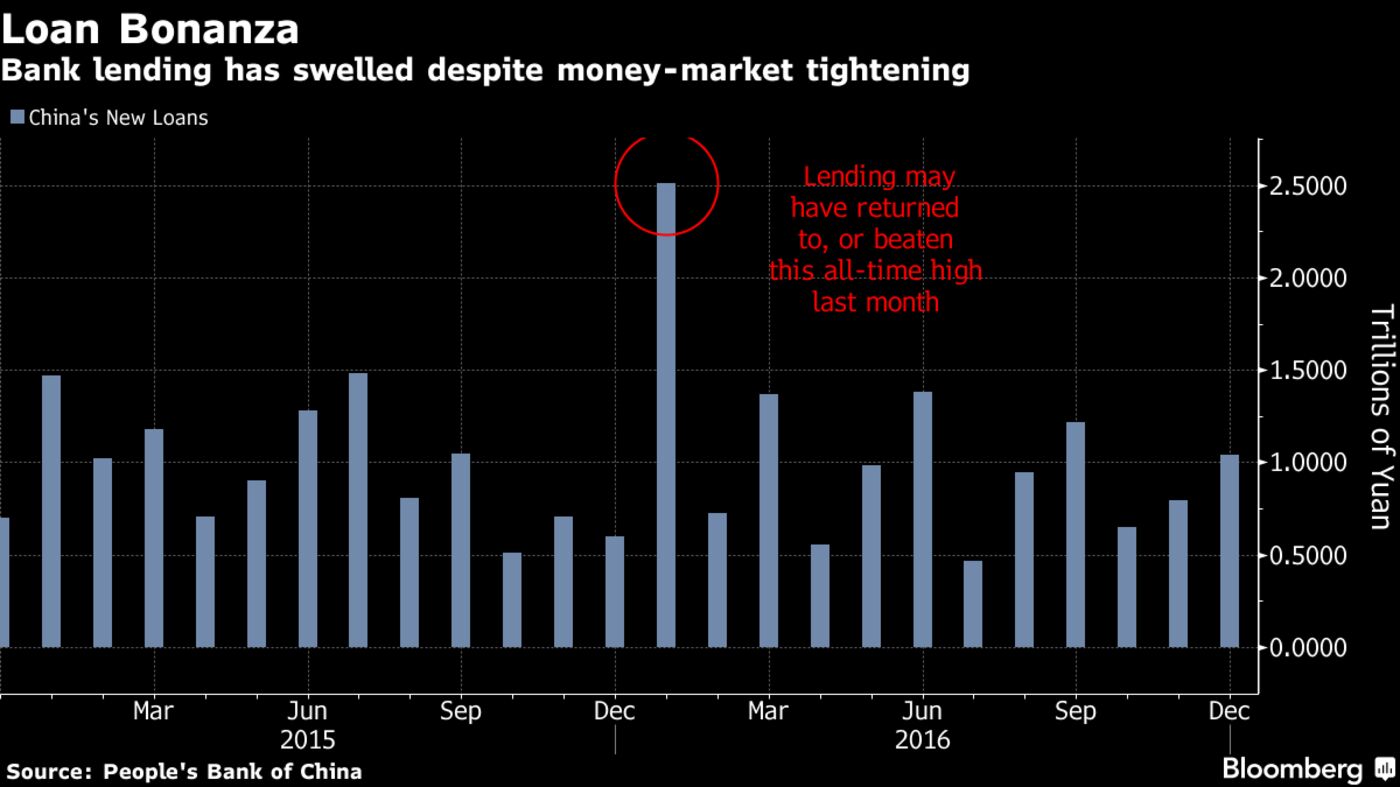 With the PBOC moving to raise short-term rates, there's less of a contrast with the Federal Reserve, which is projected to continue its tightening campaign this year. Last year's gap between the two contributed to the biggest annual drop in the yuan in more than two decades.
Chinese authorities are unlikely to use repurchase agreements to sap cash from the financial system this month because maturing reverse repos will naturally drain funds and a drop in yuan positions will keep liquidity tight, according to 10 of 14 traders surveyed by Bloomberg News.
China's currency slipped against the dollar Tuesday after the data showed that the nation's reserves — the world's largest — dropped to $2.998 trillion, though the decline was still the smallest in six months.
"China has finally converged with the U.S. in monetary policy. This in turn could help ease depreciation pressure from the yuan against the dollar," Hu wrote.
YOU MIGHT ALSO LIKE THESE