Five Things You Need to Know to Start Your Day
December 23, 2016 - Weekly Market Outlook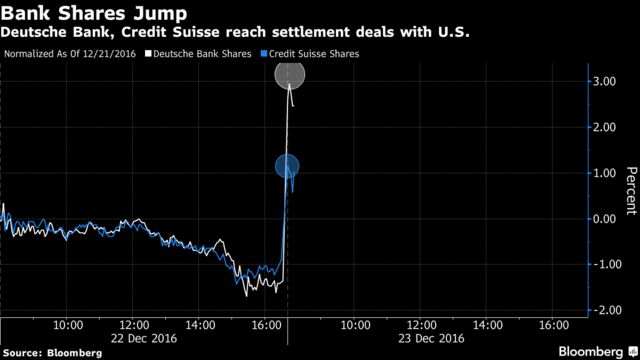 European banks dominate markets today, U.K. GDP revised higher, and how much of 2016 do you remember? Here are some of the things people in markets are talking about today.
Deutsche Bank and Credit Suisse settle
Deutsche Bank AG said in statement this morning that it has reached a $7.2 billion settlement with U.S. authorities following an investigation into its dealings in mortgage-backed securities. The total is far below the $14 billion originally demanded by the Justice Department but still is higher than many expected. Also this morning Credit Suisse Group AG agreed to pay $5.28 billion to settle a similar case. Shares in both banks rallied in European trading. The deals settled a major point of uncertainty.
Barclays fights on, Paschi lives on
Barclays Plc, however, failed to come to an agreement with U.S. authorities to end the probe into its part in the sale of mortgage-backed securities, which were described as "craptacular" by a consultant who reviewed the loans. The two sides will now face each other in court. In Italy, meanwhile, the government will step in to rescue Banca Monte dei Paschi di Siena SpA after the lender failed to raise the 5 billion euros ($5.2 billion) it needed from the market.
U.K. GDP revised higher
Third quarter U.K. GDP growth was revised higher to 0.6 percent, with consumption driving the expansion. In a separate report, the Office for National Statistics said that the country's current-account deficit widened as Britain posted its worst trade performance in three years. In the U.S., new home sales data and University of Michigan Consumer Sentiment are due to be released at 10:00 a.m. ET.
Markets quiet
Overnight, the MSCI Asia Pacific Index dropped 0.2 percent in light trading. In Europe, the Stoxx 600 Index was 0.1 percent higher at 4:57 a.m. ET as banks propped up the market in a session with volumes about a third lower than the 30-day average. S&P 500 futures were flat.
Christmas break
Five Things is finishing today until the new year and will be back on Jan. 3. Rather than doing a review of a tumultuous year, we have put together this quiz. Try your hand at it. Answers will be published on Tuesday, Dec. 27, at midday ET.
YOU MIGHT ALSO LIKE THESE