Europe Stocks Advance as Global Shares Rally Before ECB Decision
December 8, 2016 - Weekly Market Outlook
Fresh U.S. equity records bolstered Asian and European stocks, while bond yields declined before policy decisions from the world's two biggest central banks.
The Stoxx Europe 600 Index climbed for a fourth day after the MSCI Asia-Pacific Index rose the most in almost a month and Japan's Topix Index closed at its highest this year. The euro and the yen extended gains with gold before Thursday's European Central Bank meeting, amid mounting speculation policy makers will prolong their asset-buying program. The New Zealand dollar and South Korea's won strengthened. Oil held below $50 a barrel after a surge in U.S. stockpiles.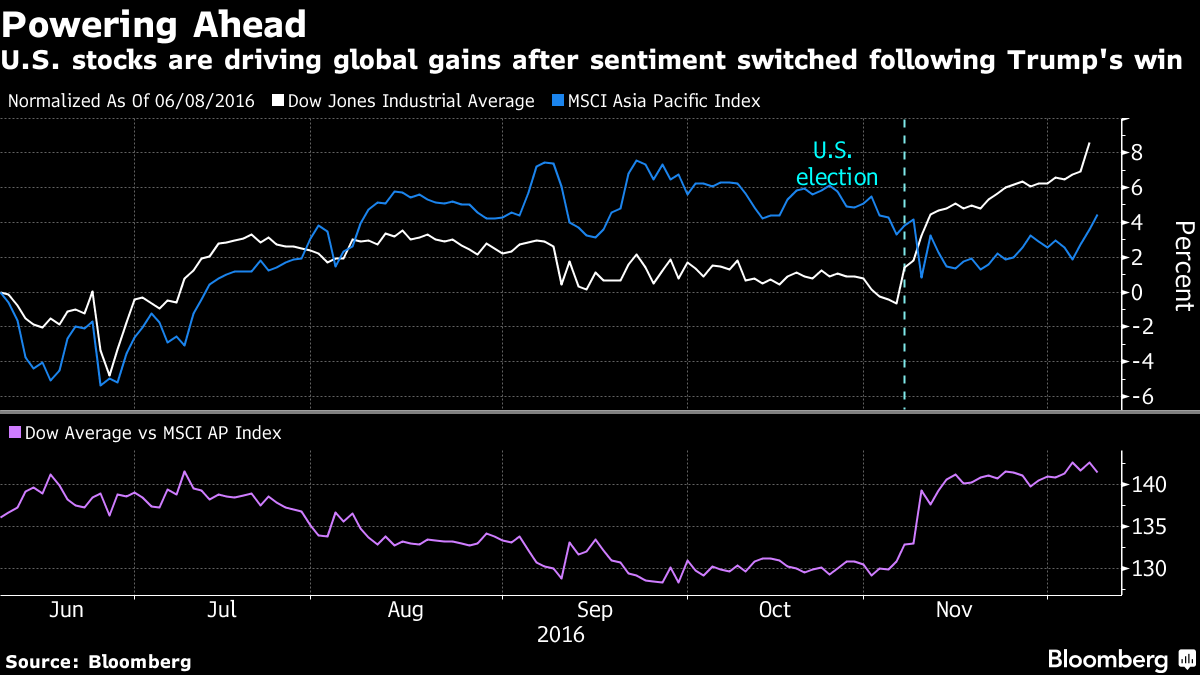 Expectations ECB chief Mario Draghi will prolong the bank's 80 billion euros ($86 billion) a month of bond purchases beyond March provided a shot in the arm for U.S. equities, which had been struggling to extend the rally ignited by Donald Trump's unexpected election win a month ago. Both the S&P 500 Index and the Dow Jones Industrial Average rose to records Wednesday. Odds on the Federal Reserve raising interest rates next week remain at 100 percent, according to Fed funds futures.
"We're seeing a euphoric state continue, and investors will also be heading into the Christmas break soon, so we're seeing some final moves to get into the market or close off positions," said Ayako Sera, a Tokyo-based market strategist at Sumitomo Mitsui Trust Bank Ltd. "We're also seeing gains from expectations on ECB's moves to ease."
China's exports gained in November, snapping a seven-month losing streak, while imports jumped the most in two years, data showed Thursday. Final third-quarter data showed Japan's economy expanded an annualized 1.3 percent, less than the rate of 2.3 percent predicted in a Bloomberg survey of economists.
Stocks
The Stoxx Europe 600 Index rose 0.3 percent as of 8:10 a.m. London time, while U.K., French and German benchmark indexes all advanced
The MSCI Asia Pacific Index climbed 1.4 percent, rising for a third day. Japan's Topix index gained 1.5 percent.
SoftBank surged to levels unseen in two years, and are up 13 percent this week, as Chairman Masayoshi Son's meeting with President-elect Donald trump is seen benefiting the company's businesses, which include Sprint
India's S&P BSE Sensex rose 1.6 percent, led by Tata Motors Ltd. and Infosys Ltd., while South Korea's Kospi jumped 2 percent
The Hang Seng Index in Hong Kong climbed 0.3 percent; gauges in mainland China were little changed
S&P 500 Index futures were also little changed
Telephone and property stocks drove the S&P 500 to its new all-time high Wednesday, with health-care shares the only decliners among 10 industry groups after President-elect Trump said that he opposed high drug prices
Currencies
The euro advanced 0.1 percent at $1.0766 after rising 0.3 percent last session, while the yen appreciated 0.1 percent to 113.62 per dollar, heading for a second day of gains
The kiwi climbed 0.6 percent, touching an almost four-week high, as Reserve Bank of New Zealand Governor Graeme Wheeler said he was likely done with rate cuts and the government raised growth projections
The won added 0.7 percent, for a third day of advances
The Bloomberg Dollar Spot Index, a gauge of the greenback against 10 major peers, retreated 0.1 percent and has swung between gains and losses all week
Bonds
Australian 10-year bonds led the advance in Asia, with yields falling by seven basis points, or 0.07 percentage point, to 2.73 percent
Similar-maturity New Zealand debt yielded 3.18 percent, down five basis points.
Yields on Treasuries due in a decade rose one basis point to 2.35 percent after falling five basis points on Wednesday
Commodities
West Texas Intermediate crude was little changed at $49.68 a barrel after sliding 2.3 percent last session
Oil supplies at Cushing, Oklahoma, the biggest U.S. storage hub, climbed by the most since 2009 last week, fueling concern that American shale producers will fill the gap created by the OPEC-led deal to curb output
Gold for immediate delivery was little changed at $1,174.33 an ounce after gaining 0.4 percent on Wednesday
YOU MIGHT ALSO LIKE THESE