Dollar Extends Surge as Bonds Decline; Japanese Equities Climb
November 24, 2016 - Markets & News
The dollar extended gains at the highest in more than a decade as a stronger case for hiking U.S. interest rates weighed on bonds and gold. Japanese stocks climbed, while emerging-market assets dropped.
The greenback rose to near a more than seven-month high against the yen, with U.S. markets to be closed for Thanksgiving. Japan's Topix index climbed for a 10th straight session as investors returned from a holiday, while South Korea's equity index and currency lost at least 0.6 percent. The Philippine peso fell to 50 per dollar for the first time since 2008. Ten-year Australian and New Zealand government debt yields rose for a second day, as gold traded near a nine-month low. Copper and zinc surged.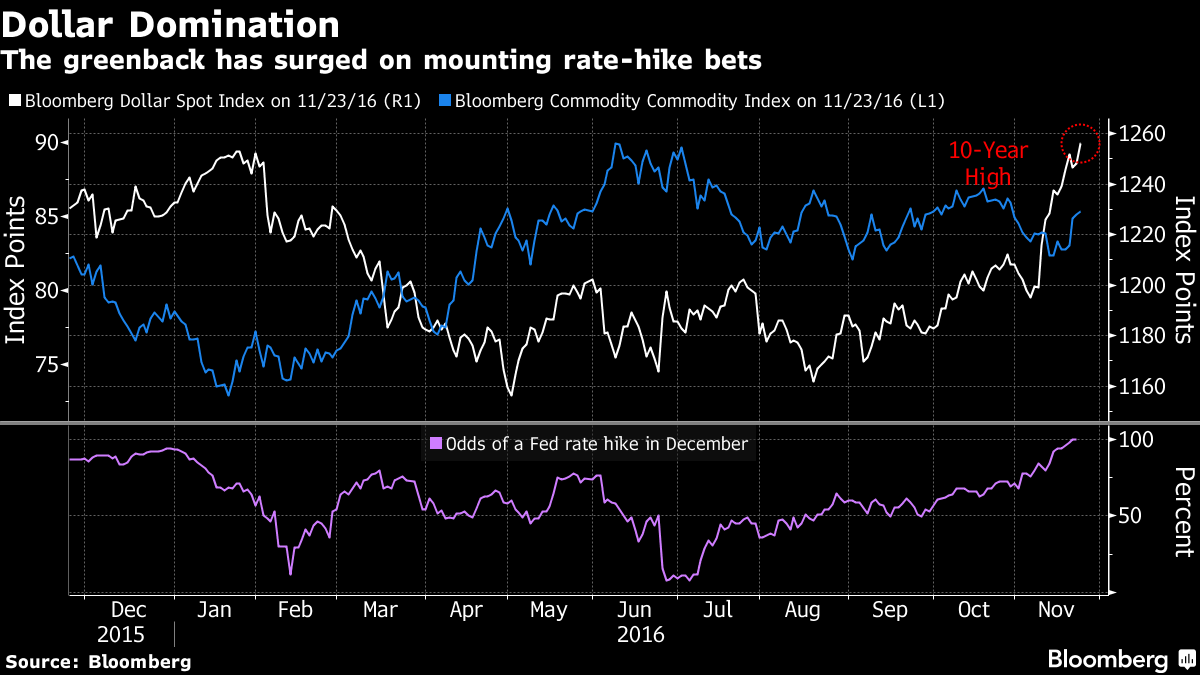 The bond selloff sparked by Donald Trump's unexpected election as U.S. president has resumed, after better-than-estimated data on durable goods orders and manufacturing helped keep bets on a Federal Reserve rate hike next month at 100 percent. Central bank officials saw a stronger case for policy tightening amid solidity in the labor market, with some saying a hike should take place in December, according to minutes of the November gathering. U.S. equity benchmarks extended records last session, while the prospect of higher rates from Janet Yellen's Fed is again weighing on emerging markets.
"The dollar has been really strong in anticipation of Yellen's move next month and that strength in the U.S. dollar is ultimately going to mean that emerging market assets would be seen as disadvantaged," Nicholas Teo, a strategist at KGI Fraser Securities in Singapore, said by phone.
Stocks
The MSCI Asia Pacific ex-Japan Index slid 0.4 percent as of 2:22 p.m. in Tokyo, after two days of gains
The Topix climbed 0.9 percent to extend gains at its highest level since February, and stretching its winning streak to the longest since June 2015
The Kospi index in South Korea lost 0.7 percent, falling for the first time in three days, while Jakarta's benchmark gauge lost 1.2 percent
The Straits Times Index fluctuated after dropping 0.9 percent as Singapore cut the top end of its 2016 growth forecast, with exports remaining under pressure
Hong Kong's Hang Seng Index fell 0.3 percent and the Hang Seng China Enterprises Index was little changed. The Shanghai Composite Index rose 0.3 percent, trading near a 10-month high
New Zealand's S&P/NZX 50 Index climbed a second day, adding 0.5 percent
S&P 500 Index and Dow Jones Industrial Average futures were little changed, after both underlying indexes climbed last session to fresh records
Currencies
The yen weakened for a third day, losing 0.2 percent to 112.74 per dollar, following last session's slide of as much as 1.7 percent
The Korean won led declines among major currencies, slipping 0.6 percent as the Bloomberg Dollar Spot Index, a gauge of the U.S. currency versus 10 peers, added another 0.1 percent at its strongest level since at least 2005
The Bloomberg-JPMorgan Asia Dollar Index is trading at the weakest since 2009 — led by the Philippine peso's plunge past 50 per dollar. The Thailand baht, Indian rupee and Indonesian rupiah each lost 0.4 percent Thursday.
Bonds
Yields on 10-year Australian and New Zealand government notes rose by at least six basis points
Treasuries due in a decade yielded 2.35 percent on Wednesday, up four basis points, or 0.04 percentage point
Commodities
West Texas Intermediate crude rose 0.1 percent to $48.01 a barrel after retreating 0.2 percent last session
Iraq's prime minister said the country will cut production as part of a broader OPEC supply deal, reversing the nation's previous insistence for an exemption
Gold was down 0.2 percent at $1,185.66 an ounce after breaking below the $1,200 level for the first time since February this week. Gold is heading for the biggest monthly drop in more than three years
Base metals surged. Copper jumped 3 percent on the London Metal Exchange, extending gains to the highest level in more than a year, while zinc headed for the strongest close since 2008