Stocks Rise, Treasuries Fall With Gold as Clinton Gets FBI Boost
November 7, 2016 - Markets & News
Global stocks rallied with commodities and Mexico's peso on speculation Hillary Clinton's chances of a U.S. election win increased after the FBI said her handling of e-mails wasn't a crime. Demand for havens waned, with higher-rated bonds, the yen and gold retreating.
The MSCI All Country World Index rose the most in six weeks, the S&P 500 Index halted its longest slide since 1980 and European shares climbed from a four-month low as Clinton is seen by investors as the more predictable candidate. The peso posted the biggest jump in a month, and a rally in the dollar versus the yen showed traders were close to fully pricing in a Democrat win. Oil and metals paced gains in materials, while gold sank with Treasuries.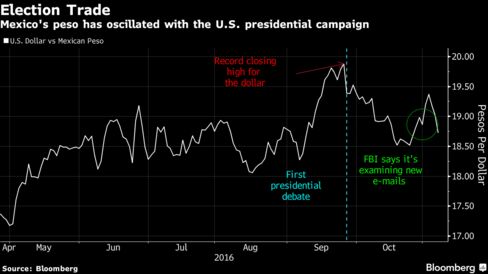 Financial markets have been on edge, with gauges of volatility soaring, since FBI director James Comey's announcement on Oct. 28 that the bureau was looking into more Clinton e-mails from an unauthorized server. All the jitters with election polls showing a tighter presidential race spurred a search for relatively safer assets last week. That came to a halt just before the Nov. 8 vote as Comey said Sunday in a letter to Congress his agency maintained its July conclusion that it wouldn't recommend criminal charges against Clinton.
"There's a restrained global relief," said Piet Lammens, head of research at KBC Bank NV in Brussels. "The market reacted to the message that they started the investigation and now they have to do the opposite. However, we are just one day before the election and it would be imprudent to take big positions and think everything is OK."
Clinton is leading Republican rival Donald Trump by three percentage points among likely voters nationally, the latest sign that her campaign's painstaking focus on women, Latinos and blacks could help propel her to the White House. The final Bloomberg Politics national poll before Tuesday's election has Clinton ahead of Trump, 44 percent to 41 percent, when third-party candidates are included. In a two-way contest, she's also up by three points.
Stocks
MSCI's global gauge climbed 1.2 percent at 10:02 a.m. in New York, the most since Sept. 22.
The S&P 500 rallied 1.4 percent to 2,114.85, following a nine-day slide that erased $725 billion in value from U.S. equities.
"We've been down nine straight days as concerns over a potential Trump victory put a lot of caution in the market," said Michael James, managing director of equity trading at Wedbush Securities Inc. in Los Angeles. "Some of that is being relieved with the comments from the FBI about the Clinton e-mail investigations. All today guarantees is that there will be more volatility for the rest of the week following tomorrow's election."
The Stoxx Europe 600 Index jumped 1.3 percent after capping its 11th consecutive day without gains for the first time since 1994. HSBC Holdings Plc climbed on a surprise jump in adjusted profit. Glencore Plc and Rio Tinto Group paced gains among miners as commodities from oil to steel advanced. PostNL NV rallied after Belgian mail service Bpost SA revived its approach to its Dutch counterpart.
The MSCI Emerging Markets Index rose 1.6 percent, its first increase in five days. Brazil's Ibovespa led gains among the world's biggest stock markets. Hungarian shares reached a record high after the country was returned to investment grade by Moody's Investors Service. Egypt's EGX 30 extended an eight-day rally amid bets a decision to float the nation's currency will help cement a $12 billion loan from the International Monetary Fund.
Currencies
Mexico's peso climbed 2.2 percent. The currency has been among assets tending to strengthen when Trump loses momentum as he has pledged to renegotiate the North American Free Trade Agreement and build a wall along the U.S. border with Mexico.
The Bloomberg Dollar Spot Index, which measures the U.S. currency against a basket of 10 major counterparts, rose 0.3 percent, following a six-day decline. The greenback advanced 0.8 percent to $1.1057 per euro, and 1.3 percent to 104.47 yen.
The dollar's surge sent the greenback close to the levels likely to prevail if Clinton won the presidential election. The U.S. currency rose as much as 1.5 percent versus the yen after the FBI's latest announcement. That took the dollar to within 0.6 percent of the 105.25-yen level that the top 10 currency forecasters see it reaching within 24 hours of a Clinton victory. A majority said the dollar would tumble through 100 yen if Donald Trump won.
"Our base case is that Clinton wins and the dollar strengthens" into the Federal Reserve meeting in December, said Robert Rennie, head of financial-markets strategy in Sydney at Westpac Banking Corp., the fifth-most accurate major currency forecaster in Bloomberg's latest rankings. He sees the dollar at 105 should Clinton win. "Clearly, markets appear to have embraced that view today."
Commodities
The Bloomberg Commodity Index, which tracks returns on raw materials, rose 0.7 percent, the most since Oct. 27, the day before the e-mail saga was reignited.
Gold retreated the most in a month, breaking a seven-day rising streak. Bullion prices added 2.3 percent last week as opinion polls narrowed and investors priced in a higher chance of Trump capturing the White House. Citigroup Inc. sees gold rallying to $1,400 an ounce if he wins and ABN Amro Bank NV forecasts $1,350 an ounce by the end of the year on a Trump victory.
"With the chances of a Trump victory retreating, gold is dropping back today," Georgette Boele, an Amsterdam-based analyst at ABN Amro, said by phone. "If you have a Clinton victory, the gold price could go quite a lot lower."
Oil rebounded amid a broader market rally ahead of the U.S. election as an earthquake struck Oklahoma Sunday near the nation's largest crude-storage hub.
Bonds 
Treasuries led declines among the safest sovereign bonds, with two-year notes falling for the first time in seven days amid speculation that a Clinton win is more likely and therefore will open the way for the Federal Reserve to raise interest rates next month. Benchmark 10-year note yields climbed four basis points, or 0.04 percentage point, to 1.82 percent, set for the biggest one-day increase since Oct. 27, according to Bloomberg Bond Trader data.
Bond investors joined traders in currency and stock markets in shifting toward riskier assets as Clinton is seen as a continuity candidate, while her Republican rival Donald Trump is viewed as more unpredictable. Trump, a political novice, has advocated winding back free-trade agreements that have been credited by economists for fueling global growth.
If Clinton wins, "interest rates are likely to head higher as the market looks towards Fed normalization," said Eugene Leow, a fixed-income strategist at DBS Group Holdings Ltd. in Singapore. "Conversely, sentiment is likely to deteriorate further if Trump wins. We suspect that the knee-jerk reaction lower in yields would be comparable to what was seen in the immediate aftermath of Brexit."
German 10-year bunds, perceived to be among the safest debt securities in Europe, slid relative to those of Italy and Spain. Yields on 10-year U.K. gilts rose six basis points to 1.19 percent.
YOU MIGHT ALSO LIKE THESE