ECB Study Finds Impact of Weak Euro on Prices Recedes With Time
November 2, 2016 - Markets & News
The impact of currency moves on inflation have weakened in the 19-nation euro region, a European Central Bank study showed on Wednesday.
"Over time, the size of exchange rate pass-through is documented to have declined in the euro area and other advanced economies," according to an article to be published in the ECB's economic bulletin. "This decline can be attributed to several factors, including the low inflation environment prevailing in many economies over the past two decades and the changing composition of imports."
The report comes as the ECB is considering whether to extend its 1.7 trillion-euro ($1.9 trillion) asset-buying program beyond March amid stubbornly low inflation. Policy makers including President Mario Draghi have highlighted the importance of the exchange rate for price developments and growth, while stressing that they don't have a target for the single currency.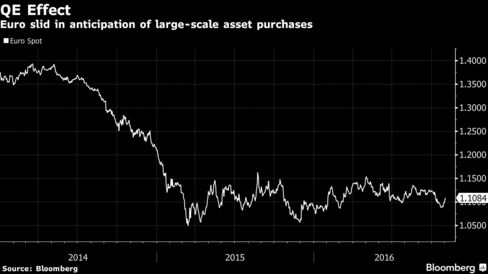 "The effect of the exchange rate is strongest and most immediate for import prices, and declines along the pricing chain," the ECB said. Local distribution costs, a lower share of imported inputs in consumer inflation, "and the relatively long time taken for the indirect effects of exchange-rate shocks to feed through the economy are the main factors contributing to this pattern."
While headline inflation accelerated to 0.5 percent in October, the highest since mid-2014, it remained well below the central bank's goal of just under 2 percent.
The globalization of trade as well as the emergence of low-cost exporters in countries such as China may have reduced the impact of exchange-rate swings on prices, according to the study. The growing role of the euro as a currency in which imports are invoiced may have also helped weaken the link.
Still, monetary policy can make a difference.
"An expansionary domestic monetary policy shock will be followed by a euro depreciation, with a direct inflationary effect on import prices," the ECB said. "It could therefore be expected that such a shock would lead to a higher correlation between exchange rate" and consumer-price movements "than would be observed after a depreciation caused by, for example, a negative domestic supply shock such as lower productivity."
YOU MIGHT ALSO LIKE THESE