This Hedge Fund's Contrarian Pound Long May Soon Find Company
October 26, 2016 - Weekly Market Outlook
Macro hedge fund Harmonic Capital Partners LLP bought the pound about six weeks after the U.K.'s June 23 vote to part ways with the European Union. The fund has lost money on this bet, but it's not about to give up now.
Chief Investment Officer Patrik Safvenblad said Harmonic Capital is sticking to the position, which is held mostly against the euro, because it sees sterling's fair value as much higher than current levels. A stronger growth and inflation outlook for Britain compared with the euro area also suggests relative gains for the U.K. currency, he said.
"We were clearly too early on this trade," Safvenblad said in an Oct. 24 phone interview. "But it is looking better every day now." He declined to disclose the loss made on the position.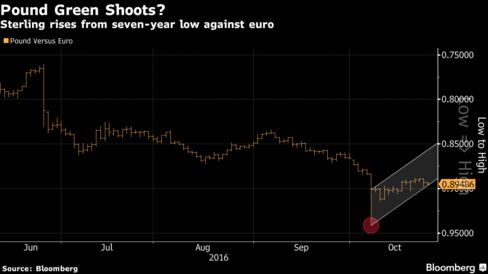 The pound slumped as much as 24 percent this year to hit a three-decade low of $1.1841 on Oct. 7. Against the euro, it fell almost 10 percent six weeks after the Brexit referendum, and a further 5.1 percent since. Yet signs are emerging the contrarian bet by London-based Harmonic Capital, which had $1.8 billion in assets as of end-September, is gaining more traction.
Leveraged funds trimmed their net short positions on sterling in the week through Oct. 18, after boosting them to a three-year high a week earlier, U.S. Commodity Futures Trading Commission data showed. In the options market, one-month risk reversals signaled diminishing bearish sentiment on the pound versus the dollar.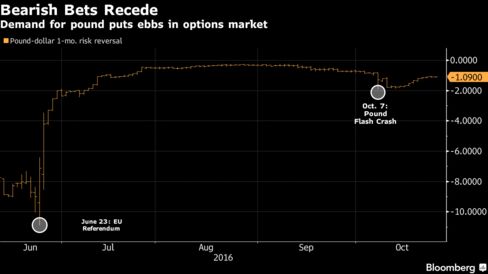 Geneva-based money manager Unigestion reduced its underweight position on the pound and bought options which would profit from a possible short-term rebound in the currency. The trade is based on the view that the market's negative positioning is extreme, portfolio manager Luca Simoncelli said in an Oct. 24 interview.
Still, bearish views abound. Forecasts in a Bloomberg survey of economists put the pound as low as $1.15 and 97 pence per euro by the first quarter of 2017, when U.K. Prime Minister Theresa May is expected to formally trigger Article 50 to begin Britain's exit from the EU. Former Bank of England policy maker Paul Fisher said on Tuesday it's still too early to fully assess the potential fallout from Brexit.
"Fundamentally, the pound remains challenged," Unigestion's Simoncelli said. "The attitude of international investors to finance the U.K. deficits has been clearly damaged." Unigestion has $1.5 billion in multi-asset strategies, Simoncelli said.
Harmonic Capital's Safvenblad is optimistic on the pound's short-term prospects, even as he concedes it could take as long as two years for sterling to return to fair value. The pound may find support in the near term as investors "dip their toes back into risk," he said.