Twitter Shares Drop on Report Saying Google Won't Make a Bid
October 6, 2016 - Weekly Market Outlook
Twitter Inc. fell as much as 11 percent in extended trading following a report that Alphabet Inc.'s Google isn't interested in buying the social-networking service.
Technology news website Recode reported Wednesday that Google doesn't currently plan to make a bid for Twitter, citing unidentified people familiar with the situation. Disney and Apple are also unlikely to be suitors, Recode said, without naming its sources. A representative for Google declined to comment on the report, while Disney didn't respond to requests for comment. Apple declined to comment last week on reports that it was interested.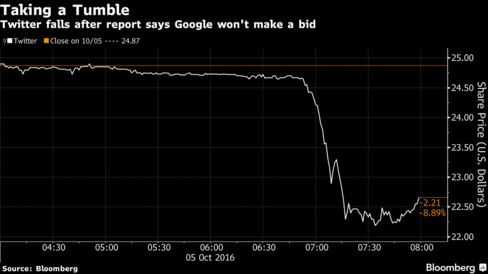 Google tapped Lazard Ltd. to explore making an offer for Twitter last month, people familiar with the matter said at the time. The search giant has looked at acquiring San Francisco-based Twitter in prior years and passed. Salesforce.com Inc. and Walt Disney Co. have also retained bankers to consider Twitter bids, which could come in the next couple of weeks.
Twitter shares, which jumped 5.7 percent to $24.87 at the close in New York on renewed speculation about a takeover, slid as low as $22.10 in late trading.
YOU MIGHT ALSO LIKE THESE