Here's How to Gauge Bank-Funding Stress in Europe
October 3, 2016 - Weekly Market Outlook
As European banks confront signs of a dollar shortage, here's how to track the health of European bank-funding markets.
A slew of bad headlines for Deutsche Bank AG pushed short-term bank funding costs higher last week, betraying investor anxiety that stress at the systemically important bank could spill over to other European lenders.
While Deutsche Bank shares had found a firmer footing by Friday's close and analysts have so far struck a relatively sanguine note on the outlook for European-bank funding, these are the charts to watch to see how conditions are developing. Cross-Currency Basis While this measure hasn't risen to anywhere near levels seen either during the global financial crisis or at the height of the 2012 sovereign-debt crisis, recent moves in this gauge of European borrowers' dollar-funding costs have been much sharper than usual. The 3-month EUR/USD cross-currency basis traded at minus 60 basis points on Friday, its widest closing level since July 2012. It had eased slightly to minus 55 bps by Monday 6:38 a.m. ET.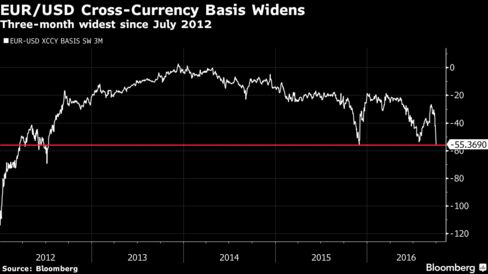 Similarly, the cost to borrow dollars in exchange for yen — another gauge of dollar-liquidity conditions in the global banking system — rose markedly last week. The 3-month USD/JPY cross-currency basis traded at minus 79bps on Monday, its widest since at least August 2011, indicating rising cost of procuring dollars for yen-denominated investors.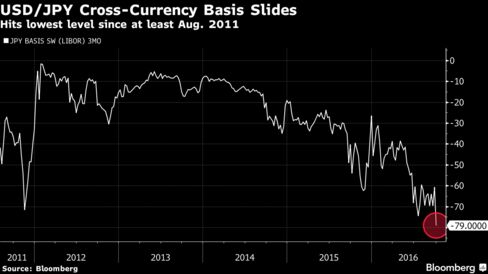 The ECB's Dollar-Funding Facility European banks have, in recent years, made only modest demands on the European Central Bank's dollar-liquidity facilities. Last week dollar borrowing at the ECB's auction jumped to its highest in four years, with euro-area banks borrowing $6.35 billion. While extraneous factors like the end-of-quarter effects and an imminent regulatory change in the U.S. also contributed to that spike, it's still worth keeping an eye on this gauge to see if elevated demand for dollars persists.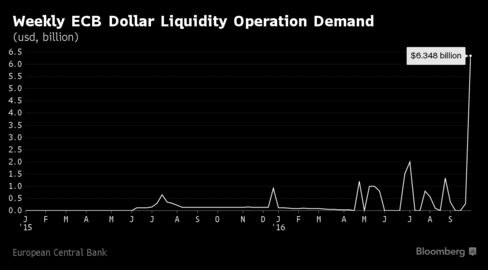 FRA/OIS Spread
This gauge widens when three-month interbank lending rates rise relative to overnight lending rates, signaling that markets assign a higher risk to longer-term funding. The EUR FRA/OIS has widened 2.9 basis points in the past week, the most since the period through February 12.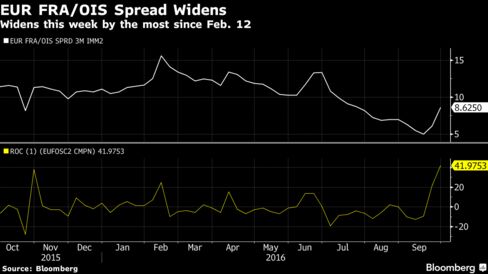 Three-Month Libor Fixing By contrast, the London interbank offered rate, known as Libor, has remained relatively stable over the past week across euro, dollar and sterling markets. Libor — a benchmark rate for trillions of dollars of assets around the world — has risen in recent months due to money-market reforms in the U.S. But over the past week, there has been no discernible impact from the market turmoil facing Deutsche Bank on three-month fixing, which tends to rise when fears over counterparty risk grow.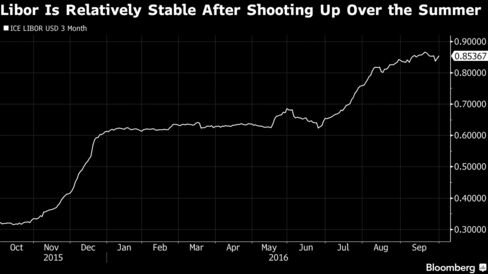 YOU MIGHT ALSO LIKE THESE