U.S. Stocks Pare Weekly Gain as Crude, Apple Slide to Halt Rally
September 24, 2016 - Weekly Market Outlook
U.S. stocks retreated as energy producers and Apple Inc. led declines, with the S&P 500 Index paring its best weekly advance in more than two months after a rally spurred by the Federal Reserve.
Equities halted the longest winning streak in seven weeks as Apple and Facebook Inc.dragged down the technology group, while tumbling crude oil sank energy shares on worries OPEC won't reach an agreement to curb output. Apple fell in afternoon trading amid speculation over iPhone demand. Bats Global Markets Inc. soared 19 percent and Twitter Inc. climbed the most since 2013 amid deal speculation.
The S&P 500 lost 0.6 percent to 2,164.69 at 4 p.m. in New York, as crude dropped the most since July and Apple lost 1.7 percent. The equity benchmark closed below its average price during the past 50 days. The Dow Jones Industrial Average slipped 131.01 points, or 0.7 percent, to 18,261.45. The Nasdaq 100 Index declined 0.7 percent, a day after posting its 12th record close this year. About 6.3 billion shares traded hands on U.S. exchanges, 7 percent below the three-month average.
"Today is the inevitable pause because the last two days saw a pretty significant move, particularly in light of a Fed that did what the market was expecting," said Michael Antonelli, an institutional equity sales trader and managing director at Robert W. Baird & Co. in Milwaukee. "The bulk of the price action — you've got bonds selling off a little bit, you've got crude oil selling off, the dollar rallying a little bit — it's what you'd expect from a pause in a rally."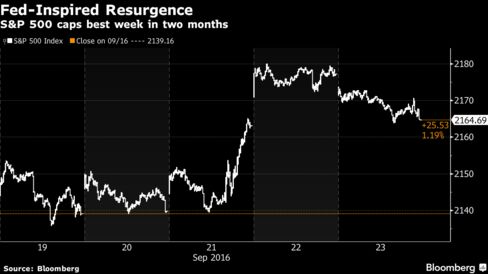 Facebook slipped 1.6 percent after saying it gave advertisers an inflated measure of video ad viewership. Apple took a sudden afternoon dive, losing as much as 2.7 percent on speculation that German research firm GfK issued a report suggesting iPhone 7 sales would be lower than last year, based on data in Europe and Asia. That helped send tech stocks in the main U.S. equity measure to their biggest loss in two weeks.
The S&P 500 closed up 1.2 percent for the week, after the Federal Reserve held off raising interest rates and scaled back the number of increases it expects in 2017. The equity gauge has returned to within 1.2 percent of a record set in August, recovering from a rout two weeks ago as signals from the Fed and the Bank of Japan calmed concerns that central banks might be less inclined to extend their unprecedented measures to support growth.
The CBOE Volatility Index rose 2.3 percent Friday to 12.29, trimming its biggest weekly decline since July 1. The measure of market turbulence known as the VIX on Wednesday wiped out a monthly gain that had reached as much as 35 percent.
"We had a good week and a consolidation is the right move, given the uncertainties that still linger and the elections coming up," said Christoph Riniker, the Zurich-based head of strategy research at Julius Baer Group Ltd. "The Fed's decision was positive short-term, but we're still going to have a rate hike and the consensus is still going for December."
Three Fed officials on Wednesday dissented, the most since December 2014, in favor of a quarter-point hike. One of them, Boston Fed President Eric Rosengren said today in an explanation of his dissent that failure to get back to a strategy of gradual rate increases may threaten the ongoing U.S. economic recovery. Not tightening policy could generate "the sorts of significant imbalances that historically have led to a recession," he said.
Investors will now turn their attention to economic data and the next earnings season that gets underway in about two weeks. A Bloomberg gauge tracking the degree to which data miss or exceed economists' estimates has been negative for all of September. Reports are due next week on durable-goods orders, services and personal spending in the world's biggest economy. Analysts project profit at S&P 500 companies fell 1.5 percent in the third quarter.
Nine of the S&P 500's 11 main industries retreated, with real estate rising Friday, and leading in its first week after being separated from the financial group. Phone companies also gained. Energy producers lost 1.3 percent, while technology shares slipped 1 percent. Industrials and financials lost at least 0.6 percent.
Oil and gas companies slumped as Saudi Arabia was said to dismiss the prospects for an output agreement to stabilize the market in talks in Algiers next week. The energy group in the benchmark index erased a morning gain, sliding as much 1.7 percent. Transocean Ltd. and Devon Energy Corp. declined at least 5.5 percent.
Among shares moving Friday on corporate news, Salesforce.com Inc. fell the most in seven months after people familiar with the matter said it was among Twitter's potential suitors. Yahoo! Inc. also weighed on the tech group, losing 3.1 percent a day after saying the personal information of at least 500 million users was stolen in an attack on its accounts from 2014.
Endo International Plc jumped 15 percent after replacing its chief executive officer amid a 73 percent plunge in its stock price during the past year. Imperva Inc. rallied 21 percent to a seven-month high after people familiar with the matter said the security-software company has drawn interest from potential buyers including Cisco Systems Inc. and International Business Machines Corp. Cisco fell 1 percent.