The U.K's vote to leave the European  Union could throw up some winners in Asia.
That's because Britain will be forced to deepen links with Asian trading partners and cut new deals allowing access to each others markets. Such a move will throw up opportunities for the likes of China, Japan and Hong Kong who already have the strongest investment, financial, tourist and trading ties to the U.K.  according to a score card by Bloomberg Intelligence economists Fielding Chen and Tom Orlik.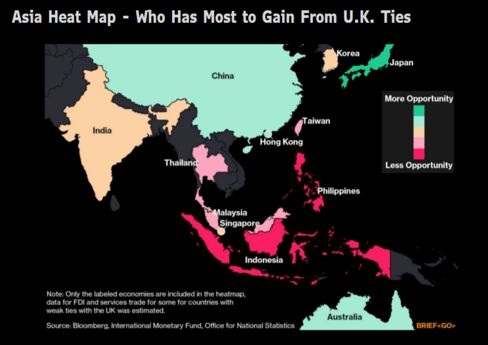 "As Brexit throws the U.K.'s relations with Europe into confusion, strengthening links with Asian economies that are the main engines of global growth has seldom been more important," Chen and Orlik wrote in a note. The Bloomberg Intelligence analysts listed five factors to gauge the strength of bilateral relations.
Trade: stronger links mean more potential to benefit from a shift in global trade flows after Brexit.
Investment: significant foreign direct investment in the U.K. offers opportunity for others as the U.K. looks to stay open for global business.
Finance: strong financial ties provide a basis for enhancing trade and investment flows.
Tourism: inflows of visitors will generate more income for the U.K., and a proxy for people-to-people ties that are the basis of goods and capital flows.
Exchange rate: a sharp drop in the pound following the Brexit vote has put the U.K. on sale, a boon for U.K. exporters, as well as for foreign visitors and investors.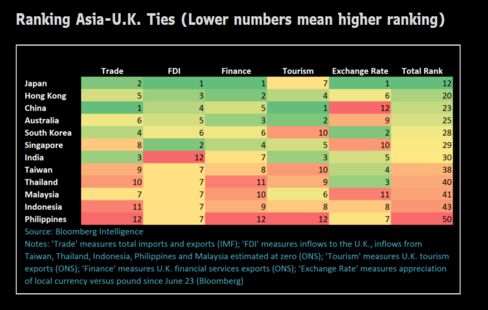 On the overall rankings, China comes in third place behind Japan and Hong Kong. Its score is boosted by trade and tourism ties but slips down the ranks due to the weakening yuan.  Those who could miss out include Malaysia, Indonesia and the Philippines. That's because they rank lowest in the heat map for key linkages such as trade and foreign direct investment. Philippines scores a total of 50 compared to Japan's 12. Lower numbers mean a higher ranking.
 To be sure, much about the U.K.'s future relations with Europe and Asia remains unknown as the aftermath of the Brexit vote has only just started to unfold. Trade deals take time to materialize and trends of investment play out over years, not months, the Bloomberg Intelligence analysts cautioned. Still, those who want the opportunity won't wait until the dust has settled.
"Businesses and investors are not going to wait too long before grasping the Brexit opportunity," Chen and Orlik wrote.