Draghi Has Decision on QE Program Coming, If Not Now Then Soon
September 8, 2016 - Weekly Market Outlook
Mario Draghi might have no choice but to extend his bond-buying plan. How he'll achieve it is anything but clear.
The European Central Bank president will hold a press conference on Thursday after his Governing Council sets monetary policy for a euro-area economy that's looking in need of heightened stimulus for a while to come. If no definitive action is taken immediately, Draghi is likely to be quizzed on what he'll do — and when — to keep growth on track.
With just six more months of asset purchases scheduled, and recent data highlighting the fragility of the recovery, most economists surveyed by Bloomberg predict the ECB will need to prolong quantitative easing. But policy makers first need to decide whether that requires a redesign of a 1.7 trillion-euro ($1.9 trillion) program that is fast chewing up the region's supply of debt.
"The question is not whether the ECB will ease, it's more about getting the sequence right to maximize the impact of the additional measures," said Frederik Ducrozet, an economist at Pictet & Cie in Geneva, who expects fresh stimulus to be announced in December. "More time is needed to acknowledge and address the scarcity issue facing asset purchases."
The central bank will announce its decision at 1:45 p.m. Frankfurt time, and Draghi will speak to reporters 45 minutes later. While few economists surveyed by Bloomberg predict any change in interest rates, just under half expect to see some form of action.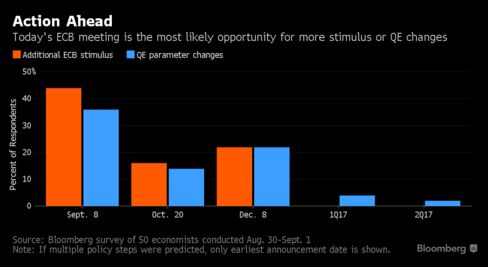 Economic Outlook
Draghi will also unveil revised economic forecasts that are set to be barely changed from the previous ones in June. They won't make for comfortable reading. The inflation goal of just under 2 percent hasn't been touched in more than three years and isn't likely to get there until at least 2018. The rate was just 0.2 percent in August, below economists' estimates and unchanged from July. It's a credibility problem for the ECB, which has repeatedly been forced to cut its projections in the past year.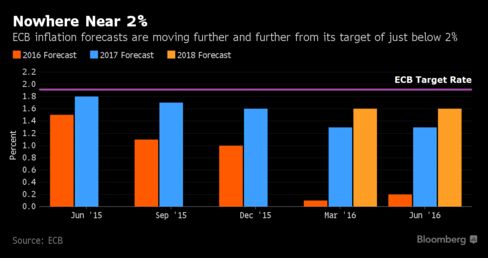 Draghi might have cast an eye on Wednesday toward the U.K., where Bank of England Governor Mark Carney was criticized by lawmakers for hastily unleashing stimulus after the country voted to quit the European Union. Much of the data since then have shown the British economy performing strongly — something Carney attributed to the BOE's measures.
In the euro area, ECB Executive Board member Peter Praet said last week that he sees "encouraging signs of resilience." That was before a purchasing-managers survey by IHS Markit showed economic growth in the 19-nation bloc at its weakest in 19 months. Euro-area unemployment's slow drift downward seems to have come to a halt as well — it's been stuck at 10.1 percent since April — and measures of economic confidence have dropped.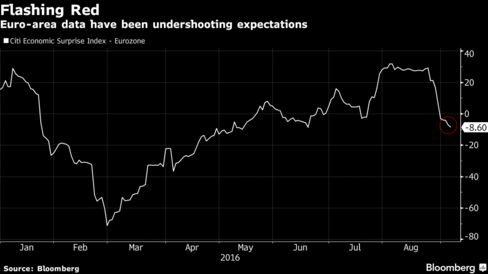 Bank Concerns
One argument against ECB action is that further stimulus might be counterproductive. Deutsche Bank AG Chief Executive Officer John Cryan has been among those calling on policy makers to change course as negative interest rates hurt bank profitability.
The head of the ECB's bank-regulation arm, Single Supervisory Mechanism Chair Daniele Nouy, has cited the profitability of lenders as her greatest concern. At its July meeting, the ECB's Governing Council discussed an apparent correlation between banks' equity prices and their willingness to lend.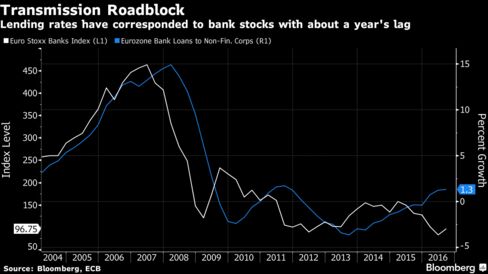 Bond Scarcity
Should the Governing Council decide that more QE is what the economy needs, it has to work out how it can be done. Draghi has pointed to the ECB's track record of exploiting the flexibility of the package — it has made technical adjustments such as raising the proportion of each bond issue it can buy, and added asset classes such as regional and corporate debt — but most economists see a scarcity problem that is only likely to worsen.
Some of the limits on individual bond purchases could be raised again. The ECB could also deviate from the so-called capital key, in effect buying more from highly indebted nations such as Italy — though Bundesbank President Jens Weidmann has already warned against the risk of blurring the line between monetary and fiscal policy. Or the central bank could drop its self-imposed rule that bonds are only eligible if they have a yield higher than the deposit rate.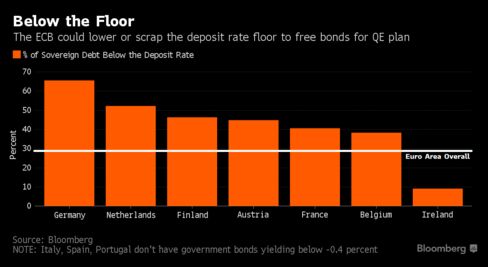 "Before you pull your last card you should think about your options very carefully," said Carsten Brzeski, chief economist at ING-Diba AG in Frankfurt. "A reasonable sequence for them is to first make sure where the economy is heading and find a solution to the scarcity problem. This should give them the opening to extend QE beyond March."