Emerging Stocks Set for Third Monthly Gain Spurred by Stimulus
August 31, 2016 - Weekly Market Outlook
Emerging-market stocks headed for their longest stretch of monthly gains in two years as stimulus from global central banks outweighed concern the U.S. Federal Reserve is on the brink of resuming interest-rate hikes.
The MSCI Emerging Markets Index of equities rose 2.7 percent in August led by an advance in China. Colombia's peso and Russia's ruble topped gains among currencies in the developing world, while South Africa's rand was the worst performer amid heightened domestic political risks. The premium investors demand to hold emerging-market bonds over U.S. Treasuries narrowed the most since March.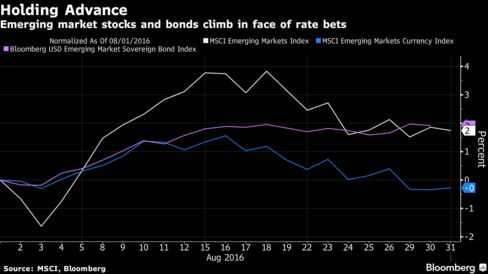 While the prevalence of negative interest rates across the developed world continued to support appetite for higher-yielding assets in emerging markets, the momentum has slowed amid signs the Fed will resume tightening policy this year. Equities in emerging countries have added $1.4 trillion in market value since May and exchange-traded funds capped a 13-week streak of inflows.
"For most emerging-market bulls the conditions for a further rally remains in place," said Christopher Shiells, a senior emerging-markets analyst at Informa Global Markets Ltd., who recommends buying Latin American currencies, especially the real and Mexican peso. "The case for investing in traditional developed-market assets is changing as these markets are displaying risks we used to associate with emerging markets. Plenty of investors still have room to turn overweight on emerging markets if they decide to."
Stocks
The MSCI Emerging Markets Index slipped 0.2 percent to 897.13 by 11:10 a.m. in London. During August, information-technology stocks were the best performers among 10 industry groups, climbing 5.3 percent, while a gauge of telecommunications companies fell the most.
Investors pumped money into exchange-traded funds that buy emerging-market stocks and bonds last week, extending the longest winning streak in more than a year as inflows exceeded $19 billion over the past 13 weeks. The flows helped boost the market value of the 31 biggest emerging equity gauges to $15.8 trillion as of yesterday, compared with $14.4 trillion at the end of May.
The Hang Seng China Enterprises Index fell 0.5 percent on Wednesday, paring its monthly gain to 6.5 percent. That's the biggest advance in local-currency terms among 94 global benchmarks tracked by Bloomberg.
Currencies
The MSCI gauge tracking developing-world currencies increased 0.2 percent on Wednesday, helping sustain a 0.1 percent appreciation for August. The won climbed 0.5 percent after a report showed South Korea's July industrial output rose 1.6 percent from the previous year, exceeding the 0.4 percent increase estimated by economists in a Bloomberg survey.
The Philippine peso is set for the best performance among Asian currencies this month, supported by remittances and record-high foreign-exchange reserves.
While South Africa's rand halted the longest losing streak in more than three years today, it's still down 4 percent for the month, the worst performance among 24 emerging markets. The ruling African National Congress urged Finance Minister Pravin Gordhan to cooperate with a police investigation into allegations that he set up an illicit investigative unit when he headed the national tax agency, while criticizing the way the police have handled the case.
Colombia's peso strengthened 4.4 percent in August, while the ruble climbed 1.2 percent, the first gain for Russia's currency in August in a decade. A jump in oil prices and high domestic rates helped lure investors hunting returns in riskier emerging-market assets.
Bonds
The extra yield investors demand to hold emerging-market bonds versus U.S. Treasuries narrowed one basis point to 333, according to JPMorgan Chase & Co. indexes. The premium narrowed 33 basis points in August, the biggest decline since March, the data show.
Emerging-market dollar sovereign bonds have returned more than 7 percent in the past three months and yield an average of 4.2 percent, according to a Bloomberg index. Bonds in emerging Europe outperformed peers in August. Yields on 10-year Russian debt fell 29 basis points to 8.22 percent.