U.S. Stocks Slip as Investors Ramp Bets for Rate Hike This Year
August 27, 2016 - Weekly Market Outlook
U.S. stocks slipped in a volatile session, as remarks from Federal Reserve officials lifted optimism on the economy while also bolstering speculation interest rates could rise as soon as next month.
A speech by Fed Chair Janet Yellen sparked an early surge in equities amid a bullish economic assessment, which included a lack of clear guidance on when a rate boost may come. Equities then tumbled after Vice Chairman Stanley Fischer said Yellen's comments were consistent with a possible September increase, only to recover much of their losses in a final-hour rebound. Utilities and phone companies led the declines, while banks, technology and health-care shares climbed.
"Fischer wants to make September still on the table," said Mark Kepner, managing director and equity trader at Themis Trading LLC in Chatham, New Jersey. "He mentioned he's not concerned about the low growth we have had the first six months. He's saying growth is more a productivity and investment story. There are light volumes, lightly staffed desks and these moves can easily happen."
The S&P 500 Index fell 0.2 percent to 2,169.04 at 4 p.m. in New York, after rising as much as 0.7 percent. The gauge extended a monthly slide and capped its first back-to-back weekly drop in two months. The Dow Jones Industrial Average lost 53.01 points, or 0.3 percent, to 18,395.40, after wiping out a 123-point gain. The Nasdaq Composite Index rose 0.1 percent. About 6.6 billion shares traded hands on U.S. exchanges, 3 percent below the three-month average.
Expectations for a rate increase climbed after Fischer spoke, with traders pricing in a 42 percent probability of a move next month, from 32 percent after Yellen's remarks. Odds are now nearly 63 percent the central bank will act by December, up from 42 percent two weeks ago, based on fed fund futures data compiled by Bloomberg.
"In light of the continued solid performance of the labor market and our outlook for economic activity and inflation, I believe the case for an increase in the federal funds rate has strengthened in recent months," Yellen said in the text of a speech to central bankers and economists in Jackson Hole, Wyoming.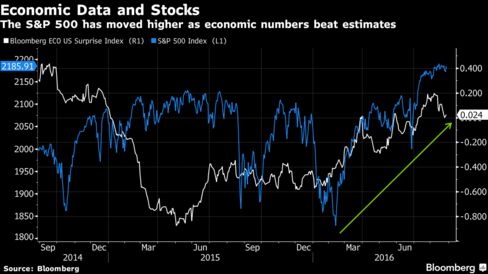 Wagers on higher borrowing costs had increased amid a chorus arguing the case for policy tightening. Kansas City Fed President Esther George yesterday reiterated her call that higher rates are warranted, while Dallas Fed chief Robert Kaplan said "the case is strengthening" for another increase. They joined New York Fed chief William Dudley and his San Francisco counterpart John Williams who signaled last week a rate increase could be on the table in coming months.
"At the end of the day, headlines weren't as dramatic as people were scared they might be," said Walter Todd, who oversees about $1.1 billion as chief investment officer for Greenwood Capital Associates LLC in South Carolina. "It doesn't appear she's pounding the table saying rates are going up next month."
The rally that drove the S&P 500 to a series of records since early July lost momentum amid the recent hawkish remarks from Fed officials and uneven economic data. The benchmark posted its first three-day slide in two months, interrupting a period of calm that had the CBOE Volatility Index on track for its lowest mean level for any August since 1994. The measure of market turbulence known as the VIX held at a seven-week high, little changed Friday after swinging between an 11 percent drop and a nearly 10 percent jump.
With policy makers assessing data to guide their rate decisions, a report today showed the U.S. economy grew less than previously reported last quarter, capping a sluggish first-half performance propped up mainly by consumer spending. A separate measure showed consumer confidence eased in August to a four-month low as Americans become less optimistic about their finances for the year ahead.
As the earnings season wraps up, almost 80 percent of S&P 500 companies have beaten profit estimates, while 55 percent topped sales expectations. Analysts estimate third-quarter income for the gauge's members will contract for a sixth-straight quarter, forecasting a 1.3 percent decline.
In Friday's trading, seven of the S&P 500's 10 main industries retreated. Stocks perceived as defensive were hardest hit, continuing a recent about-face among this year's leaders as utilities and phone companies slumped more than 1 percent, while consumer staples lost 0.5 percent. Raw-materials producers lost 0.6 percent as a gauge of the dollar surged the most in two months.
Among shares moving on corporate news, Autodesk Inc. jumped 8.1 percent to a record after surprising investors with a quarterly profit, and forecasting a narrower-than-estimated loss in the current period. Ulta Salon Cosmetics & Fragrance Inc. sank 6.1 percent, the most since November, as its current-quarter outlook disappointed.
Herbalife Ltd. declined 2.3 percent to a six-week low, after losing as much as 7.8 percent. Hedge fund manager Bill Ackman told CNBC that top investor Carl Icahn is trying to sell his stake in the nutrition company. Herbalife declined to respond to Ackman's comments, while representatives for Icahn and Ackman didn't immediately respond to requests for comment.
Alere Inc. slipped 2.8 percent after suing Abbott Laboratories to compel the completion of their pending $5.8 billion takeover deal, claiming the medical-device maker failed to get U.S. antitrust clearance in an effort to scuttle the contentious transaction. Abbott was little changed.