Gold Extends Gains as Yellen Sees Rate Rise 'Over Time'
August 27, 2016 - Weekly Market Outlook
After weeks of anticipation and a nine-page speech by Federal Reserve Chair Janet Yellen, gold traders are signaling they have no clearer picture of when U.S. interest rates will rise.
Gold rose as much as 1.6 percent after Yellen said that while the case for a rate hike has strengthened recently, a gradual increase will be appropriate "over time," initially easing concerns that the Fed would make a move next month. The gains were all but erased after Fed Vice Chairman Stanley Fischer said her remarks leave open the possibility of boosting rates in September.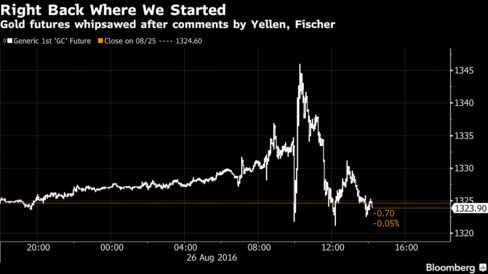 "You get a committee member saying one thing and another saying something else," Graham Leighton, a trader at Marex Spectron Group in New York, said in a telephone interview. "It's been incredibly frustrating to financial markets."
The case to raise interest rates is getting stronger as the U.S. economy approaches the central bank's goals, Yellen said in the text of a speech Friday to central bankers and economists in Jackson Hole, Wyoming. The economy is "nearing" the Fed's goals of full employment and stable prices, share said. The Fed chair didn't discuss the specific timing of a rate move in her first public comments since June.
Gold futures for December delivery rose 0.1 percent to settle at $1,325.90 an ounce at 1:41 p.m. on the Comex in New York. Prices fell 1.5 percent this week, the most since mid-July.
'Gradual Increases'
"Looking ahead, the FOMC expects moderate growth in real gross domestic product, additional strengthening in the labor market, and inflation rising to 2 percent over the next few years," Yellen said in her prepared remarks. "Based on this economic outlook, the FOMC continues to anticipate that gradual increases in the federal funds rate will be appropriate over time to achieve and sustain employment and inflation near our statutory objectives."
Bullion futures posted the biggest first-half gain since 1979 as bets that the Fed will be slow to tighten monetary policy helped boost demand for the metal. Low rates are a boon for gold, which becomes more competitive against interest-bearing assets. The rally has sputtered in the second half as signs of an improving U.S. economy rekindled rate concerns, prompting some investors to rein in bullish bets.
Fischer, speaking in an interview with CNBC at Jackson Hole, said "the evidence is that the economy has strengthened." Asked whether Fed watchers should be looking for such a move in September, and possibly for two hikes this year, Fischer said Yellen's remarks were "consistent with answering 'yes' to both of your questions."
The odds of an interest rate increase in September climbed to 40 percent, from 32 percent on Thursday, according to Fed funds data.
"The initial headlines after the release of Janet Yellen's speech definitely caused some knee-jerk reactions in the markets," Chris Gaffney, the president of EverBank World Markets, said in an e-mail. "Ultimately, we think Yellen's speech really doesn't give us anything new. They continue to be data dependent and the members still 'believe' growth will return in the coming months."