Dollar Rises on Fed Outlook as Emerging Stocks, Commodities Fall
August 22, 2016 - Weekly Market Outlook
The dollar strengthened versus all of its major peers, while emerging-market stocks retreated with commodities as hawkish comments from a Federal Reserve official boosted the likelihood of a U.S. interest-rate rise this year.
Bloomberg's dollar index rose to a one-week high after Fed Vice Chairman Stanley Fischer said Sunday the U.S. economy is already close to meeting the central bank's goals and that growth will pick up. The MSCI Emerging Markets Index of shares dropped by the most in two weeks, while European equities fluctuated. Japanese stocks advanced after Bank of Japan Governor Haruhiko Kuroda flagged the possibility that the authority's unprecedented monetary stimulus will be added to in September. Oil fell to about $48 a barrel and silver led losses among precious metals.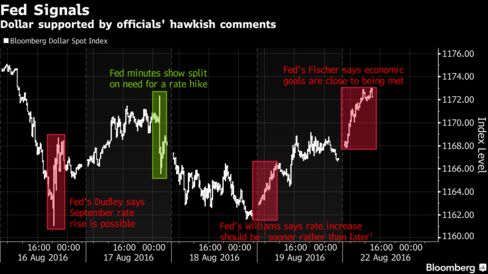 Global markets have been buffeted over the past week by comments from Fed officials flagging the possibility of higher borrowing costs as early as next month, even though minutes of the central bank's last meeting struck a more dovish tone. The focus will shift to Janet Yellen's speech this week at a gathering of global central bankers in Jackson Hole, Wyoming. Futures traders on Friday assigned a 22 percent probability to a September rate increase by the Fed, up from 16 percent a week earlier.
"Janet Yellen's speech on Friday will have the biggest impact on short-term market moves, especially if she follows in Stanley Fischer's relatively hawkish tone," said Angus Nicholson, a market analyst at IG Ltd. "A week of talking up the U.S. dollar will be good for U.S. financial stocks that would benefit from a rate rise and some of that positivity could spread over into financials globally."
Currencies
The Bloomberg Dollar Spot Index rose 0.4 percent as of 8:07 a.m. London time, after losing ground in each of the last two weeks. South Africa's rand, South Korea's won and the Mexican peso posted the biggest declines among 16 major currencies, sinking at least 0.7 percent versus the greenback.
"Investors are having a knee-jerk reaction towards the hawkish Fed comments," said Danny Wong Teck Meng, chief executive officer at Areca Capital Sdn. in Kuala Lumpur. "We will be watching out for Yellen's comments."
The yen dropped 0.4 percent to 100.65 per dollar. Kuroda told the Sankei newspaper that the BOJ is conducting a comprehensive review of Japan's economy and finances and said there is "sufficient chance" of more easing at next month's policy meeting. Softer July inflation data this Friday may raise odds for more aggressive BOJ easing, Haddad said.
India's rupee weakened 0.2 percent after India named Urjit Patel to take over from Raghuram Rajan as central bank governor from Sept. 4. The rupee, the won and China's yuan all slipped their weakest levels of the month, while Indonesia's rupiah dropped to its lowest since June.
Stocks
The MSCI Emerging Markets Index dropped 0.7 percent. South Korea's Kospi index slipped from a 13-month high as foreign investors pulled funds from the securities, after injecting more than $5 billion since the start of this quarter. Taiwan's benchmark fell to a one-month low and Hong Kong's Hang Seng Index extended Friday's retreat from a nine-month high.
Japan's Topix index added 0.6 percent as the yen's decline boosted exporters including Toyota Motor Corp., which rose to its highest since March.
The Stoxx Europe 600 Index was little changed, after losing 1.7 percent last week. Syngenta AG jumped 12 percent after U.S. security officials gave their approval to the Swiss chemical company's $43 billion takeover by China National Chemical Corp.
Futures on the S&P 500 Index fell 0.2 percent after the gauge ended last week within 0.3 percent of an all-time high. Pfizer Inc. is close to an agreement to buy Medivation Inc. for about $14 billion and a deal may be announced as early as Monday, according to people familiar with the situation.
Commodities
The Bloomberg Commodity Index declined 0.7 percent, after slipping from a one-month high in the last session.
Crude oil declined 1.8 percent to $47.66 a barrel in New York after Iraq, OPEC's second-biggest producer, said it will boost exports by about 5 percent in coming days. The price jumped 9.1 percent last week on speculation that OPEC talks next month could lead to an output freeze. U.S. drillers added rigs for an eighth week, the longest run since April 2014, Baker Hughes Inc. data show.
Silver dropped as much as 3 percent to a seven-week low, while gold was down 0.6 percent amid the dollar's advance. Silver has rallied 37 percent this year while gold jumped 26 percent as the Fed refrained from tightening and other central banks embraced negative rates, benefiting bullion which doesn't pay interest.
Bonds
The yield on two-year U.S. Treasuries climbed as much as three basis points to a two-month high of 0.78 percent following Fischer's remarks, which were made after New York Fed President William Dudley said last week that the market was underestimating the likelihood of policy tightening.
"The most recent lot of Fed speakers — and these are key speakers — have signaled that the market should be putting a greater weight on the risk of a move before year-end," said Su-Lin Ong, a senior economist at Royal Bank of Canada in Sydney. "Markets have reacted accordingly: yields have moved higher, the dollar is also firmer. The market is clearly susceptible to Yellen making similar comments in Jackson Hole."
The 10-year Treasury yield increased by one basis point to 1.59 percent. Ong said it could climb toward 1.70 percent if Yellen's remarks on the economy are along the lines of those made by Fischer when she delivers her address on Friday.
The yield on similar-maturity bonds in Japan rose by two basis points to minus 0.07 percent. The rate reached an all-time low of minus 0.3 percent in the run-up to the BOJ's last policy meeting on July 28-29, when officials refrained from expanding debt purchases or deepening negative interest rates.