Asian Stocks Near One-Year High as Crude Oil Rises; Yuan Weakens
August 15, 2016 - Weekly Market Outlook
Asian shares held near a one-year high, while European and U.S. equity index futures advanced as rising oil prices bolstered sentiment following disappointing data in the world's three largest economies.
The Topix index fell and the yen fluctuated after Japan announced slower economic growth than analysts forecast. The Shanghai Composite Index jumped by the most since May as takeover speculation outweighed Chinese figures showing a slump in new lending. The yuan weakened by the most in a month. U.S. crude climbed for a third day, while nickel rebounded following its biggest one-day loss since July.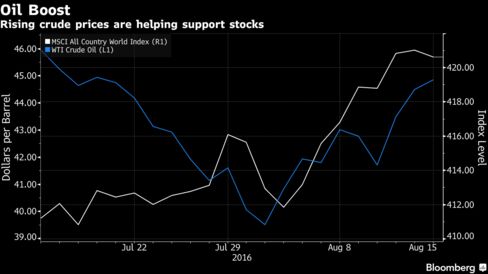 Global equities are trading near a one-year high as evidence of uneven growth in the world's biggest economies both unnerves traders and fuels optimism that central banks will come to the rescue by way of stimulus. The probability that the Federal Reserve will increase interest rates this year eased to 42 percent in the futures market on Friday, from 49 percent a day earlier, after reports showed U.S. retail sales stopped expanding in July and wholesale prices unexpectedly fell.
"The U.S. economy may have lost a bit of momentum on its way up," said Shoji Hirakawa, chief global strategist at Tokai Tokyo Research Center. "Still, weak numbers mean concern over tightening recedes."
Stocks
The MSCI Asia Pacific Index was down 0.2 percent as of 7:10 a.m. London time, after rallying 3.1 percent last week. Markets in South Korea and India were shut Monday for holidays.
The Topix index declined 0.5 percent as Japan posted an annualized expansion for the second quarter of 0.2 percent, below the 0.7 percent projected by economists. Officials in Asia's second-largest economy are struggling to ignite price growth, with the central bank running negative interest rates and an unprecedented asset-purchase program, and the government also bolstering fiscal stimulus.
Hong Kong's Hang Seng Index climbed 0.8 percent to a nine-month high after government data showed the economy expanded in the second quarter at the fastest pace since 2001. The Shanghai Composite Index advanced 2.7 percent to its highest since January after stake purchases by China Evergrande Group spurred takeover bets among property developers. The Shenzhen Composite Index climbed by the most since June after the Hong Kong Economic Journal reported that a proposed exchange link with Hong Kong will be announced as soon as this week and start in December.
"The road ahead may be bumpy but Asian equities ex-Japan are relatively undervalued, under-owned and under-appreciated," said Vasu Menon, vice president for wealth management research at Oversea-Chinese Banking Corp. in Singapore. "It could do better than other regions over the next few years once we see greater stability in China and greater clarity with Fed policy."
Futures on the Euro Stoxx 50 Index gained 0.2 percent, while contracts on the S&P 500 Index added 0.1 percent. The U.S. benchmark slipped 0.1 percent from a record high on Friday.
Currencies
The yuan weakened 0.2 percent to 6.6466 per dollar in Shanghai. China's broadest measure of new credit increased in July by the least in two years, a report showed late Friday. Data earlier that day showed factory output, retail sales and fixed-asset investment all slowed in Asia's biggest economy.
Thailand's baht reversed earlier losses to trade 0.2 percent stronger after the government reported better-than-expected economic growth. Gross domestic product expanded 3.5 percent in the three months through June from a year earlier, more than the 3.3 percent increase forecast in a Bloomberg survey.
Commodities
West Texas Intermediate crude climbed as much as 1 percent to $44.95 a barrel. It jumped 6.4 percent last week, its best performance since April, as Saudi Arabia signaled that it's prepared to discuss stabilizing markets at informal discussions being held by the Organization of Petroleum Exporting Countries in September. Venezuela's oil and foreign ministers will visit producer countries to lobby for price increases ahead of the talks, President Nicolas Maduro said.
Nickel added 0.3 percent in London, after sinking 4 percent in the last session. The metal used in stainless-steel making is the best-performing base metal in the second half and UBS Group AG rates it one of the best bets among commodities, saying a Philippine clampdown on polluting mines is crimping supply amid rising demand. Copper was up 0.2 percent and gold rose 0.3 percent.
Bonds
The yield on U.S. Treasuries due in a decade was little changed at 1.51 percent, after dropping by five basis points on Friday. The rate on similar-maturity Chinese debt dropped was also steady at 2.66 percent, the lowest in ChinaBond data going back to 2006.