Pound Reclaims World's-Worst Crown as BOE Stimulus Kicks In
August 14, 2016 - Weekly Market Outlook
The pound fell for a second week as the Bank of England restarted its stimulus program, leaving the U.K. currency as, once again, the year's worst performer.
Before the BOE's revamped bond purchases started on Monday, sterling had conceded the dubious honor of being the biggest loser among 32 major currencies to the Argentine peso as it rallied from its post-Brexit lows. The pound is now back below $1.30 for the first time since July as the easy money policies designed to shield the economy from the decision to quit the European Union take effect.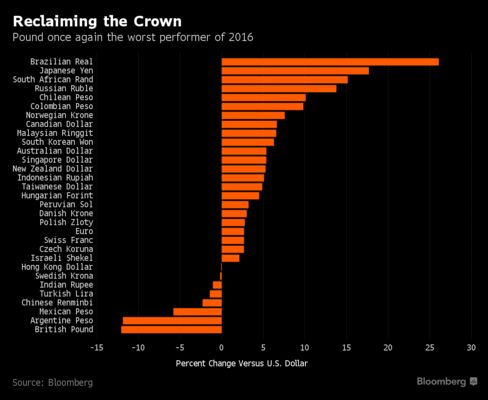 "There's hardly a reason to be positive about the pound's outlook against the background of economic developments, monetary policy and the political outlook," said Thu Lan Nguyen, a foreign-exchange strategist at Commerzbank AG in Frankfurt.
The British currency has borne the brunt of the June 23 decision to leave the world's largest trading bloc, which has spurred contractions in construction and services and sent business confidence sinking to a 4 1/2-year low.
BOE Hiccup
Brexit also spurred the BOE's first interest-rate cut in seven years last week and prompted officials to increase their gilt-purchase program by 60 billion pounds ($78 billion) to 435 billion pounds. While the central bank failed to attract enough sellers of longer-term gilts on Tuesday, the purchase operation got back on track a day later.
The pound fell 1.2 percent this week to $1.2911 as of 5:35 p.m. London time, and weakened 1.9 percent to 86.51 pence per euro. It's down more than 12 percent versus the dollar in 2016.
"The U.K. authorities have always been prepared to allow sterling to take the strain," Simon Derrick, chief currency strategist at Bank of New York Mellon Corp. in London, said in a Bloomberg TV interview. "Could you see a move that takes us down another 15 percent from where we are right now? Yes, easily."