Pound Sliding on Expanded QE Spurs Dollar Strength on Divergence
August 9, 2016 - Weekly Market Outlook
The pound fell for a fifth day after the Bank of England boosted bond purchases to combat Brexit fallout, and helping spur gains in the dollar as the only major currency whose central bank is considering tighter monetary policy.
The British currency touched its weakest level in almost a month and ceded ground to all 16 of its major peers. As well as cutting interest rates for the first time since 2009, the central bank on Aug. 4 exceeded economists' expectations with an announcement that it would increase its gilt-purchase program by 60 billion pounds ($78 billion) to 435 billion pounds, starting this week.
"We could see some short-term weakness in the pound," said Janu Chan, a senior economist in Sydney at St. George Bank Ltd. "It was an extensive stimulus program that the BOE announced. The economy has been hit in the short-term, and could face a minor recession."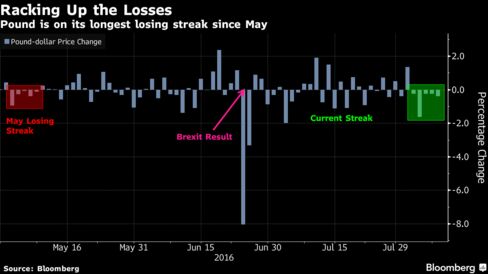 The pound fell 0.4 percent to $1.2984 as of 6:38 a.m. in London, after earlier touching $1.2978, the least since July 12. Sterling is poised to match its longest stretch of daily declines since May and has fallen 1.9 percent this month, the worst performance among 31 major peers.
St. George's Chan forecasts that the pound will rebound to $1.33 at year-end, predicting the U.K. economy will eventually recover without a further expansion of stimulus by the central bank.
| ECONOMY | POLICY RATE | ONE-YEAR CHANGE (PPT) | EXCHANGE RATE | ONE-YEAR CHANGE |
| --- | --- | --- | --- | --- |
| U.S. (BBDXY) | 0.38% | +0.25 | 1187 | -2.1% |
| U.K. | 0.25% | -0.25 | $1.2984 | -16% |
| Japan | -0.1% | -0.1 | 102.35 | +21% |
| Europe | 0 | -0.05 | $1.1078 | +1% |
| Australia | 1.5% | -0.5 | $0.76 | +2.8% |
| N.Z. | 2.5% | -1 | $0.71 | +7.6% |
The BOE bought 1.17 billion pounds of gilts on the first day of its newly topped-up asset-purchase program. The additional purchases are due to be completed in six months.
Bank of England policy maker Ian McCafferty said the central bank should follow a gradual approach in how it responds to Brexit given that information on the U.K. economy's exact reaction to the vote "is still very limited." If the U.K. economy slows "in line with the initial survey signals, I believe that more easing is likely to be required, but that can easily be delivered in coming months," he wrote. Governor Mark Carney has said more easing could come later this year.
The Australian dollar fell against most of its 16 major peers as National Australia Bank Ltd. became the latest to join JPMorgan Chase & Co., Morgan Stanley and Macquarie Bank Ltd. in saying the central bank will lower its cash rate to 1 percent next year.
The RBA last week cut its benchmark rate by a quarter point to a record low of 1.5 percent to stoke inflation and futures are pricing in a more than even chance of another reduction by February. The Aussie fell 0.3 percent to 76.32 U.S. cents.
The Bloomberg Dollar Spot Index, which tracks the U.S. currency against a basket of its major peers, rose for a fifth day, heading for its longest winning streak since May. Data on Friday showed U.S. payrolls and wages climbed in July, prompting traders to raise the prospect of a Fed rate increase this year to almost 50 percent.