Asian Stocks Climb to One-Year High as Oil Retreats With Pound
August 9, 2016 - Weekly Market Outlook
Asian shares climbed to a one-year high as Chinese inflation data added to signs of stabilization in the world's second-largest economy. European equity index futures retreated with oil and the British pound fell for a fifth day.
The MSCI Asia Pacific Index advanced for a fourth day, led by gains in energy and raw-materials producers. U.S. crude traded below $43 a barrel, after jumping 2.9 percent in the last session as OPEC predicted the current bear market in the commodity would be short-lived. Sterling slipped to a four-week low after the Bank of England started its expanded monetary easing program this week. Taiwan's dollar was the biggest gainer among 16 major currencies, while India's bonds rose following a monetary policy review.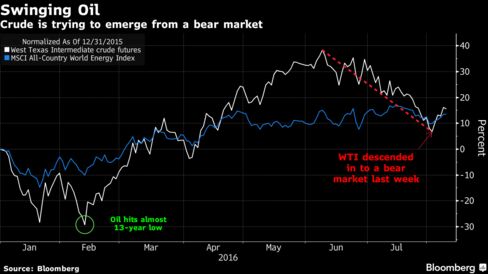 Global equities ended the last session at the highest level in almost a year, having been buoyed by U.S. economic data that are exceeding estimates by the most since 2014. China's factory-gate deflation eased for the seventh straight month in July, signaling improving conditions for manufacturers in an economy that expanded last year at the slowest pace in more than two decades.
"The health of the U.S. economy continues to support the market," said Yutaka Miura, senior technical analyst at Mizuho Securities Co. in Tokyo. "Many Asian markets are reaching new highs, and behind that is the strength of the U.S. economy."The Reserve Bank of India left interest rates unchanged on Tuesday and Governor Raghuram Rajan, whose term ends early next month, said the authority's policy stance remains accommodative. Germany reported a smaller increase in June exports than economists forecast, while the U.K. has figures due on trade and industrial output. In Brazil, the Senate will vote on opening an impeachment trial against President Dilma Rousseff.
Stocks
The MSCI Asia Pacific Index added 0.5 percent as of 7:15 a.m. London time, after climbing 2.4 percent over the last three sessions. Japan's Topix index rose 0.9 percent, while Hong Kong's Hang Seng Index retreated 0.2 percent from its highest close since November. Financial markets in Singapore were shut for a holiday.
Australia & New Zealand Banking Group Ltd. shares jumped 2.9 percent to a seven-month high after the lender said it had boosted capital and reduced low-returning assets. Office-equipment maker Brother Industries Ltd. soared 19 percent and Nissin Foods Holdings Co. climbed more than 6 percent in Tokyo after the companies reported earnings.
Futures on the S&P 500 Index were little changed, after the gauge slipped 0.1 percent from a record on Monday. Contracts on the Euro Stoxx 50 Index were down 0.2 percent.
Commodities
Crude oil slipped 0.7 percent to $42.73 a barrel in New York. The Organization of Petroleum Exporting Countries said Monday the group will hold informal talks next month and that members are in "constant deliberations" over stabilizing a market that they expect will gain ground in the latter part of 2016.
"Nobody seriously thinks that OPEC will come up with anything that will tighten supply," said Michael McCarthy, chief strategist at CMC Markets in Sydney. "Having bounced off the support near $40, and without any further supply coming online, we're moving toward the middle of the trading range of about $44 to $45."
Copper declined 0.3 percent in London, while nickel fell 0.5 percent. Gold slipped 0.2 percent to about $1,332 an ounce.
Currencies
The pound sank 0.4 percent versus the dollar, contributing to a five-day loss of 2.7 percent. As well as cutting interest rates for the first time since 2009, the Bank of England on Aug. 4 exceeded economists' expectations with an announcement that it would increase its gilt-purchase program by 60 billion pounds ($78 billion) to 435 billion pounds, starting this week.
"We could see some short-term weakness in the pound," said Janu Chan, a senior economist at St. George Bank Ltd. in Sydney. "It was an extensive stimulus program that the BOE announced. The economy has been hit in the short-term, and could face a minor recession."
Taiwan's dollar gained as much as 0.4 percent to its strongest level in a year after trade data released Monday showed exports increased in July for the first time in 18 months. Global funds boosted their holdings of the island's shares by $196 million in the last session, taking net inflows for this month to $1.12 billion, according to data compiled by Bloomberg.
South Africa's rand weakened 0.4 percent, leading declines among the currencies of commodity-exporting nations. Australia's dollar lost 0.3 percent.
Bonds
India's 10-year bond yield fell five basis points to 7.12 percent. The RBI kept the repurchase rate at a five-year low of 6.50 percent, a move predicted by 27 of 29 economists in a Bloomberg survey. Two forecast a cut to 6.25 percent.
The yield on Chinese sovereign bonds due in a decade fell three basis points to 2.72 percent, matching a seven-year low reached in January. Demand for the relative safety of government debt has been spurred by a rising number of company defaults, with a Chinese shipbuilder becoming the latest to renege this week. At least 18 domestic yuan bonds have now defaulted this year, exceeding the seven for all of 2015.
The yield on U.S. Treasuries due in a decade declined by one basis point to 1.58 percent, having been little changed in the last session. It jumped nine basis points on Friday, when better-than-expected U.S. jobs data spurred speculation the Federal Reserve will raise interest rates this year.