Japan Fiscal Plan Gives $45 Billion Spending Boost for This Year
August 2, 2016 - Weekly Market Outlook
Japan's government is set to announce 4.6 trillion yen ($45 billion) in extra spending for the current fiscal year, according to a draft of the plan being discussed by ruling party lawmakers ahead of a cabinet meeting later Tuesday.
The spending is part of what Prime Minister Shinzo Abe has flagged as a 28 trillion yen stimulus package aimed at bolstering the economy over several years without abandoning targets to cut borrowing.
Abe revealed the overall size of the package in a speech last week, saying more investment was needed to expand the world's third-largest economy. He said funds would be used to provide better port facilities for cruise ships and accelerate the construction of a high-speed maglev train line.
The plan includes 13.5 trillion yen of fiscal measures — including 7.5 trillion yen in new spending starting this year, and 6 trillion yen in low-cost loans, according to the draft obtained by Bloomberg. The measures include:
3.4t yen for steps to improve demographics
6.2t yen for infrastructure
1.3t yen to mitigate Brexit risks, help smaller companies and regions
2.7t yen for relief measures for April's Kumamoto quakes and 2011 Tohoku disaster
Beyond the current year's spending, the package will be made up of fiscal measures under next year's budget along with loans that will probably be spread over several years. The package is the latest in a long series that have had limited impact on the economy, while Abe's promised structural reforms — tackling areas like employment regulation — have fallen short of expectations.
The cabinet's expected approval of the policy comes as exporters grapple with the yen's rise, Britain's vote to leave the European Union and a slowdown in emerging economies. At the same time, concern is growing that the Bank of Japan is running out of options for further easing, after it made only minor policy adjustments at a meeting last week.
Masaki Kuwahara, an economist at Nomura Securities Co. in Tokyo said a degree of growth could be expected from public works investment, but that such growth may not be sustainable. "What Japan needs to do is to spur more demand and increase productivity by pushing through deregulation, increasing the nation's potential growth rate," he said.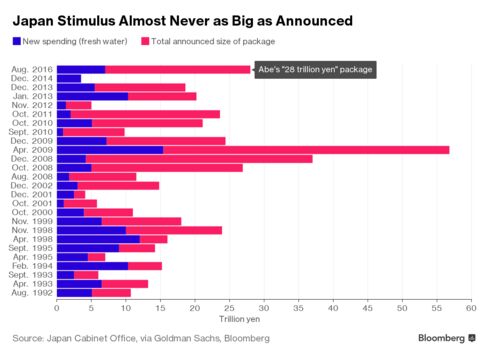 Abe is seeking to expand the economy by 20 percent by 2020. To do so, he's pledged measures to bolster household incomes, increase the birth rate and provide more care facilities for children and the elderly.
After announcing in June he would put off an increase in the sales tax, he promised last week to tap reserves in the unemployment insurance fund to lower premiums and increase payouts.
Cash Handouts
"We have been able to put together a strong package that includes bold investment for the future," Abe said ahead of the announcement, adding that Japan would maintain its fiscal targets for 2020.
NHK reported last week the package — the second to be compiled in the current fiscal year — would include cash handouts of 15,000 yen for those on low incomes.
The package comes the day before a minor cabinet reshuffle in which most senior ministers are expected to keep their posts. Economy Minister Nobuteru Ishihara will stay on, NHK reported, after speculation he might be replaced following the defeat of Abe's candidate in the weekend election for Tokyo governor. Finance Minister Taro Aso and Chief Cabinet Secretary Yoshihide Suga will keep their jobs, according to local media.