Pound Set to Extend Decline as Investors Anticipate BOE Rate Cut
July 31, 2016 - Weekly Market Outlook
The pound looks set to extend its decline next week, when traders and economists predict the Bank of England will cut interest rates for the first time in more than seven years.
Sterling, which posted its third consecutive monthly drop against the dollar in July, has weakened versus all of its 31 major peers in the past three months. Britain's vote in June to leave the European Union, along with recent economic data which underscored the ensuing setback to consumer confidence and business activity, have boosted speculation that the BOE will loosen monetary policy on Aug. 4.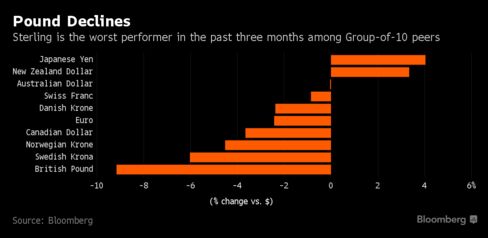 All but two of the 46 economists in a Bloomberg survey forecast policy makers led by Governor Mark Carney will cut the key interest rate from a record-low 0.5 percent. While the median estimate in a separate survey was for the BOE to maintain its asset-purchase target at 375 billion pounds ($498 billion), the highest forecast of 525 billion pounds underlined the uncertainty over the extent of the BOE's stimulus measures. The central bank will also release its quarterly Inflation Report.
"I think it's a done deal that we're going to get easing next week, but the question is just how aggressive," said Lee Hardman, a foreign-exchange strategist at Bank of Tokyo-Mitsubishi UFJ Ltd. in London. "If we get a package of measures and not just a rate cut it will reinforce the weakening trend for the pound."
Monthly Declines
The pound slid 0.3 percent this month to $1.3272 as of 5 p.m. London time Friday, having tumbled almost 9 percent in the previous two months. It dropped to a 31-year low of $1.2798 on July 6. Sterling weakened for a second month versus the euro, losing 0.9 percent to 84.16 pence.
Hardman said the U.K. currency was likely to end the year at $1.24, a level last seen in 1985.
BOE Monetary Policy Committee member Martin Weale shifted from his usually hawkish stance this week and supported immediate stimulus, boosting speculation the central bank will ease policy. Swaps signaled a 100 percent chance of a rate cut next week.
With such odds priced in, there is a risk policy measures fall short of what markets are predicting. The BOE voted 8-1 to refrain from any action this month, which prompted the pound to rally to its highest level in two weeks against the dollar.
'Shock and Awe'
With traders bracing for the BOE to ease policy next week, Hardman said "it is a higher hurdle for them to out-dove current market expectations" and that could "help to potentially dampen the negative pound reaction."
Neil Jones, head of hedge-fund sales at Mizuho Bank Ltd. in London, said the BOE may need to do more than the market is predicting to impact heavily on the currency.
"To be more bearish than what is factored, I would suggest a 40 basis-point cut and 50 billion pounds further on the QE front," Jones said. "That would take it to beyond expectations and should provide a bit of an element of shock and awe. That would probably be the upper limits of what we could expect in terms of further measures."