Bond World Sees 'Live' September for Fed, But It's September '17
July 30, 2016 - Weekly Market Outlook
Forget September, or even December. Bond traders are betting the Federal Reserve won't be able to pull off another interest-rate increase until September next year.
Earlier this week, the bond market was signaling an almost 50 percent chance that the Fed would raise rates by year-end. That optimism for the world's biggest economy crumbled Friday, when the first reading of second-quarter economic growth showed a 1.2 percent annual pace of expansion, less than half the median forecast in a Bloomberg survey.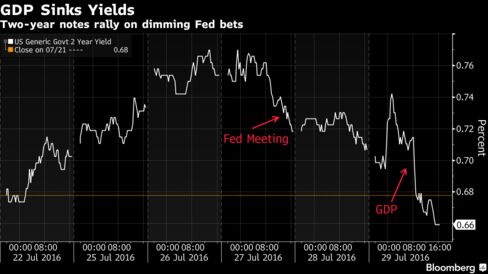 Investors plowed into bonds on the data, drawing the biggest reaction in 10-year Treasuries to a GDP release in at least a year. What's more, two-year notes, the coupon maturity most sensitive to expectations for Fed policy, rallied the most in a month and snapped a three-week slide.
"The market's picture of potential progress was changed by a quite different look at the immediate past," said Jim Vogel, head of interest-rate strategy at FTN Financial in Memphis, Tennessee. "The loss of momentum was significant."
Weekly Rally
Benchmark Treasury 10-year yields fell about 11 basis points, or 0.11 percentage point, this week to 1.45 percent, driving them back toward the record low of 1.32 percent reached July 6, Bloomberg Bond Trader data show.
Yields on two-year debt dropped five basis points this week, to 0.66 percent, after rallying Friday by the most since June.
The market-implied probability of a Fed increase by the end of 2016 dropped to 36 percent, from 45 percent at the end of last week, futures data compiled by Bloomberg show. It's not until September of next year that the likelihood exceeds 50 percent. Policy makers release their next decision on Sept. 21.
Officials are looking for sustained improvement in the economy that would justify another rate increase, following liftoff from near zero in December. The Federal Open Market Committee left rates unchanged this week and said "near-term risks to the economic outlook have diminished," while pledging to stick to a gradual pace of tightening.
"Some of the positive data earlier in the week and the FOMC statement had people starting to think maybe there's some glimmer of hope the Fed could tighten as early as September, but the GDP data should reverse that movement in sentiment," said Thomas Simons, senior money-market economist in New York at Jefferies LLC, one of the 23 primary dealers that trade with the Fed.
July data on payrolls and manufacturing, set for release next week, will give investors a more immediate read on the economy. Analysts project that job growth slowed from the June reading, which showed an unexpected surge in employment.