China's Central Bank Ends Its War With Yuan Bears
July 28, 2016 - Weekly Market Outlook
For traders betting on a weaker yuan, the People's Bank of China is turning from foe to friend.
Six months after the monetary authority intervened to crush short sellers, Bank of America Merrill Lynch, Pacific Investment Management Co. and Societe Generale SA say the PBOC is more likely to guide the currency lower than to prop it up. Despite official pledges of exchange-rate stability last weekend, bears argue that China's leaders are growing more comfortable with yuan weakness after a 3.3 percent slump since March failed to spark a repeat of January's market turmoil.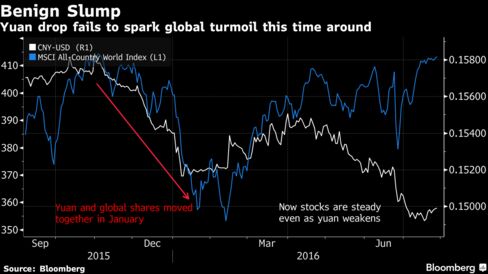 The upshot could be gradual yuan depreciation versus the dollar over the coming months, a move that would give China's export sector a much-needed boost. While Pimco's Luke Spajic says the slide will come in fits and starts, he expects the yuan to fall 5 percent in the year through May 2017. BofA's David Woo, who sees a similar decline by year-end, calls betting against the yuan his favorite trade.
"If they need to weaken it, they'll weaken it further," said Spajic, the Singapore-based head of portfolio management for emerging Asia at Pimco, which oversees about $1.5 trillion worldwide. "Going forward, we are very firm believers that the currency will be used as part of the toolkit to ease monetary conditions."
Credit Risks
The government's main instrument for supporting growth — massive credit expansion — has already pushed the boundaries of what economists thought possible. Aggregate financing increased by 1.63 trillion yuan ($244 billion) last month, topping all 29 forecasts in a Bloomberg survey and adding to a debt pile estimated at 2.5 times gross domestic product. Exports remained a drag on growth in June, sliding 4.8 percent.
"Beijing's concerns about too much debt may be constraining its willingness to cut interest rates, and this leaves a weaker yuan as the last resort to support growth," Woo, head of global rates and currencies research at BofA, said in an e-mail. He predicts the yuan will weaken to 7 per dollar by December, from 6.6700 on Wednesday.
Currency War
While the New York-based strategist is more bearish than the sell-side consensus, his prediction is less dramatic than those of some hedge fund managers. Kevin Smith, the founder of Denver-based Crescat Capital, sees the yuan dropping at least 20 percent over the next 12 months and has been adding to wagers against the currency.
Most strategists see a more subdued decline, betting that authorities will avoid a major devaluation at all costs because of its potential to fuel capital outflows and destabilize the financial system. Premier Li Keqiang said on July 22 that China will keep the yuan at a "reasonable" level and never enter a currency war.
The PBOC has signaled that it wants to avoid a pile up of one-way bets on the currency. The central bank strengthened the yuan's daily fixing after a dollar gain twice last week, stoking speculation that policy makers wanted the currency to stay stronger than 6.7 per greenback before China hosted a meeting of Group of 20 finance chiefs last weekend. PBOC Deputy Governor Chen Yulu said at a conference in Beijing on Sunday that officials will "work hard" to keep the yuan stable against a basket of currencies.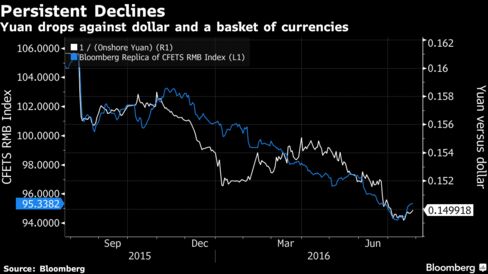 The central bank didn't immediately reply to a faxed request seeking comment on its yuan policy. The yuan added 0.1 percent to 6.6620 a dollar at 12:40 p.m. in Shanghai.
"I do not foresee the yuan depreciating sharply," said Khoon Goh, head of Asia research in Singapore at Australia & New Zealand Banking Group Ltd., which predicts a 1.2 percent drop in the currency by year-end. Authorities still have ample ammunition to prevent a devaluation, including $3.2 trillion of foreign-exchange reserves and room to implement tighter capital controls if required, Goh said.
Policy makers have avoided the need for major support measures since the yuan began sliding from a three-month high in March, with domestic and overseas investors taking the decline in stride. That's a big change from January, when global market turmoil compelled the PBOC to burn through billions in foreign-exchange reserves and squeeze short sellers with higher borrowing costs in Hong Kong.
The yuan's recent slump "has not caused any disturbances to regional currencies or to broader risk sentiment globally," said Jason Daw, the Singapore-based head of emerging-market foreign-exchange strategy at SocGen, which advises selling the yuan against a basket of currencies. "It is likely to embolden policy makers to push the limits of depreciation."