Buyers Remorse Drives Historic Capitulation in Europe Stocks
July 25, 2016 - Weekly Market Outlook
No valuation case is compelling enough to keep the world's stock investors from giving up on Europe.
Blame it on regret. After pumping more money into the region's equities than any time in history, last year's buyers are being burned with some of the world's worst returns. Global fund managers are bailing at the fastest clip ever, even though the Euro Stoxx 50 Index yields 3.7 percentage points more than bonds in dividends and companies from BNP Paribas SA to Siemens AG are on average about 25 percent cheaper than the S&P 500.
Let down by the lure of monetary stimulus, a weak currency and low oil prices, the U.K. vote to leave the European Union was the last straw for euro-area bulls who have lived through multiple corrections since 2012 and political crises from Greece to Ukraine. Stock forecasters just turned the most bearish on the region since October amid pessimism about economic and earnings growth.
"All the elements were in place for Europe to shine, but the returns failed to materialize," said Caroline Simmons, the London-based deputy head of U.K. investment at UBS Wealth Management, which manages $937 billion globally. She recommends U.S. stocks relative to euro-area equities. "People begin to think that if Europe's time didn't come then, there's no chance it will now."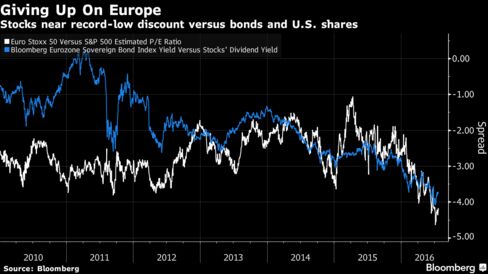 European stocks drew $123 billion from investors worldwide in 2015 only to see more than half of it taken back since January, according to Bank of America Corp. reports citing EPFR Global data. The outflows have been particularly severe in the four weeks since Britain quit the EU, with investors yanking $21.7 billion. Even European Central Bank President Mario Draghi's pledges that policy makers won't hesitate to add fresh stimulus are doing little to reassure investors.
The Euro Stoxx 50 has dropped 8.4 percent this year through Friday, dragged down by monthly declines that topped 6 percent in January and June. Losses exceed 20 percent in Italy and 9 percent in Portugal, Spain and Ireland. By contrast, the S&P 500 is up 6.4 percent in 2016, while the MSCI Asia Pacific Index has gained 1.6 percent.
Analysts and strategists who started the year projecting earnings growth and stock gains quickly reversed ground as the Euro Stoxx 50 sank to its lowest level since 2013 in February. Concern arose that the ECB's record stimulus will fail to revive the economy, instead hurting profits at financial firms — the biggest industry group, accounting for more than a fifth of the benchmark index.
Now analysts say profits will fall 2.5 percent in 2016 and strategists expect the Euro Stoxx 50 will have its worst year since the height of the sovereign-debt crisis in 2011, losing 9.2 percent.
The retreat from European stocks is the latest blow to a continent that eight years along is still struggling to recover from the financial crisis. The economy in the euro area has trailed U.S. growth every year but one since 2009, and forecasts for 2016 and 2017 have tumbled in recent months, with economists projecting the expansion will slow to 1.5 percent and 1.2 percent.
"Growth never really kicked off, and now there's a fear that it will begin to roll over," said Kevin Lilley, a manager of euro-area equities at Old Mutual Global Investors in London. He said his firm, which oversees about $34 billion, has turned more defensive, buying shares of utilities and health-care companies at the expense of banks and carmakers. "You've also got a very intense political timetable for the next 18 months, all of which present risk events. I can understand why global fund managers are more nervous on Europe."
While global equities are now more expensive than their average of the past three years, the Euro Stoxx 50 is cheaper, trading at 13 times projected earnings. The S&P 500, which reached a record last week, is 8.7 percent above its mean valuation. Peter Garnry at Saxo Bank A/S says it's an opportunity for Europeans.
"It's misguided to turn away," said Garnry, head of equity strategy at Saxo Bank in Hellerup, Denmark. "We just moved to being more positive on European equities because the valuation discount is just too high now.  Economic data is actually showing that things are progressing here at a better rate than in the U.S. And if China is really shifting gear, then it would benefit Europe more."
Manufacturing has expanded at a stronger pace in the euro area than in the U.S. for four of the past five months. Recent data in China, where Morgan Stanley estimates European companies get about 8 percent of sales versus 3 percent for U.S. firms, have signaled the economy is responding to increased policy support. A report this month showed gross domestic product in the Asian nation rose 6.7 percent, more than forecast.
It's the increase in political uncertainty that pushed NN Investment Partners' Patrick Moonen to sell, saying it's too hard to know how economic growth will be affected. In addition to the U.K. quitting the EU, Spain is no closer to forming a new government after two elections, and the rise of populism is threatening establishment parties. French and German voters go to the polls next year, while Italy holds a referendum in the fall on parliamentary reforms that, if rejected, could lead to a rise of euro-skeptic Five Star Movement.
"There's a point where the risks are just not worth it," said Moonen, who helps oversee about $200 billion as a multi-asset strategist at NN Investment Partners in The Hague. He recommends buying emerging-market equities. "There's so much political noise that you have to deal with, investors prefer to look elsewhere."