World's Silence on Weaker Yuan to Be Tested at G-20 Meeting
July 21, 2016 - Weekly Market Outlook
China has managed to weaken its currency in recent months without so much as a peep from trading rivals, despite the competitive advantage garnered amid sluggish global growth.
That quiescence — thanks to a shift in policy from sharp moves at the start of 2016 that triggered global market turmoil to more of a steady, modest decline — will be tested as Group of 20 finance chiefs gather on Chinese soil July 23-24. The yuan, once an anchor for Asia during troubled times, has so far this year marked the biggest drop against the dollar among the region's currencies.
Whether China can maintain its modest declines without triggering renewed capital outflows is one of the main items on a watch list of risks facing global growth that the finance ministers and central bank governors from the top emerging and developed nations have to consider this weekend.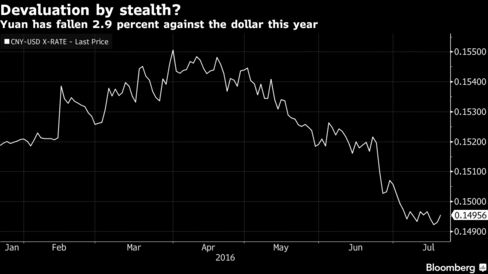 The G-20 is expected to reaffirm that countries shouldn't deliberately weaken currencies just to help their economies. The U.S. Treasury, for one, will reiterate the importance of avoiding exchange-rate manipulation or competitive devaluations and to consult closely on exchange markets, an American official told reporters, asking not to be named ahead of the gathering.
Faster Slide
While a stabilizing Chinese economy and improving market sentiment have taken pressure off the yuan, there's still some risk of a more significant depreciation, said David Dollar, a senior fellow at the Brookings Institution in Washington who was previously U.S. Treasury attaché in Beijing.
"Financial instability in China is definitely one of the risks that markets worry about," Dollar said. "It's less of a concern than it was in 2015 but those risks have not gone away."
The yuan has fallen almost 2.7 percent against the dollar since the start of January and touched a six-year low, on course for a third straight year of declines. It's down more than 5.7 percent for 2016 against a basket of currencies.
Overrule Market
The central bank strengthened the yuan's daily fixing by the most in three weeks Thursday, keeping it from slipping past 6.7 against the dollar. The People's Bank of China's daily fixing adds to signs that China's authorities are prepared to overrule the market to control the currency's moves.
A U.S. statement on Sunday detailing a telephone call between Treasury Secretary Jacob J. Lew and Chinese Vice Premier Wang Yang ahead of the G-20 meeting made no mention of the currency, though other recent readouts have included a discussion of the yuan. While the U.S. has repeatedly urged China this year to make the yuan more flexible and communicate its policies better, the Treasury has refrained from criticizing the latest decline in the currency.
Ultimately, the hallmark of a flexible exchange rate for the yuan will be whether China allows the currency to appreciate when there's pressure to do so, a Treasury official told reporters on a conference call Monday.
Japan Looms
Also on the radar screen for G-20 officials: policy responses in Japan, where the government and central bank are contending with Asia's strongest currency this year. Finance Minister Taro Aso has repeatedly warned that the yen's surge has at times been disorderly and one-sided, hinting that the government could intervene to weaken it. Days after the G-20, the Bank of Japan meets to set policy, with economists anticipating an escalation in stimulus.
Foreign-exchange moves are only one issue among many to be discussed when the central bank chiefs and finance ministers meet in Chengdu, a southwestern city of about 15 million that's best known for its pandas and spicy food. The discussion agenda will once again be dominated by a well-worn topic: how to revive global growth.
While China's slowdown has bottomed out for now and U.S. stocks have risen to a record, there's a nagging feeling that the market exuberance is increasingly disconnected with underlying fundamentals.
Dangers Lurk
Uncertainty around Britain's planned exit from the European Union, the potential for an Italian banking crisis, geopolitical risks from Turkey to the South China sea and weakening global growth are just some of the emerging risks that G-20 officials will discuss.
"There most certainly will be a discussion of the implications of the Brexit for the U.K.'s economy, the EU, exchange rates and global financial markets," said Scott Kennedy, director of the Project on Chinese Business and Political Economy at the Center for Strategic and International Studies in Washington. "I would expect the G-20 to seek clarification from the U.K. and EU about upcoming steps."
The G-20 may again urge governments to pursue structural reforms and unleash additional fiscal spending in an effort to take pressure off central banks to stoke growth. The Chengdu gathering also will focus on infrastructure spending and reforms to the global financial architecture, including a new safety net for the global financial system.
The yuan's decline may not be raising eyebrows because it could still potentially move either way, Kennedy said, by weakening further to support trade or strengthening because economic growth is stronger than in other countries.
"That's probably why we're not seeing so much angst at the moment," he said. "We really do have a heck of a lot of other things going on."