Draghi May Flag Action Ahead as ECB Meets Under Brexit's Shadow
July 21, 2016 - Weekly Market Outlook
Mario Draghi may have longed, just once, to have a quiet monetary-policy meeting before the summer break. Never mind.
Britain's vote four weeks ago to leave the European Union will loom large when the European Central Bank president addresses reporters in Frankfurt on Thursday, after a meeting of the Governing Council. While action isn't seen as likely straight away, he might signal more stimulus to be deployed when fresh economic forecasts are available at the next decision in September.
Draghi has predicted that euro-area growth will slow as a result of Brexit, suggesting a response is needed. Yet a major concern is how much further he can go with a stimulus package that already includes a 1.7 trillion-euro ($1.9 trillion) asset-buying program increasingly constrained by ultra-low debt yields.
"The U.K.'s vote to leave the EU can mean a lot for the ECB," said Holger Sandte, chief European analyst at Nordea Markets in Copenhagen. "A deterioration of the economic outlook could warrant more easing at some point but, more immediately, the decline in bond yields makes the current purchasing targets impossible to achieve."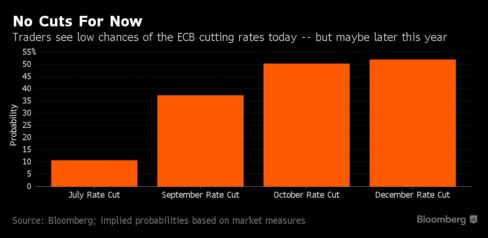 After the Bank of England kept policy unchanged last week and signaled a willingness to act in August, investors are betting the ECB will also wait. Market measures point to an interest-rate cut after the summer. That would mean the Governing Council keeps the main refinancing rate unchanged at zero and the deposit rate at minus 0.4 percent on Thursday. The decision will be announced at 1:45 p.m Frankfurt time and Draghi will hold his press conference 45 minutes later.
Economists surveyed by Bloomberg see the asset-purchase program staying at 80 billion euros a month for now, with the greatest chance of extra stimulus coming at the Sept. 8 meeting. They predict an extension of quantitative easing beyond March 2017 as the instrument of choice.
A problem for policy makers is that although they've gone out of their way to spur credit expansion, the pick-up in lending remains timid.