Pound Shows Signs of Calm as Post-Brexit Volatility Fades
July 16, 2016 - Weekly Market Outlook
A semblance of calm is returning to the pound.
Sterling's implied one-month volatility versus the dollar declined this week to the lowest since June 24, the day the results of Britain's vote to leave the European Union was announced. The difference with an equivalent gauge for three months was at one percentage point on Friday, having surged in June to a record. Typically swings tend to be lower over the shorter period and inversions signal investors are more concerned with the the immediate future.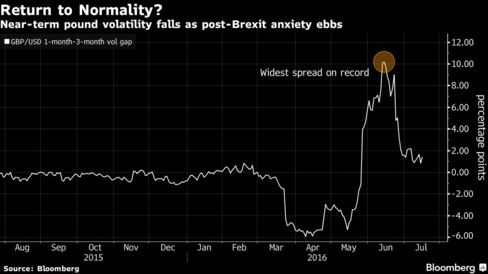 The pound, which plunged to a 31-year low as investors digested the implications of the referendum result, posted its biggest weekly gain in four months as the Bank of England refrained from adding potentially currency-debasing stimulus and the appointment of Theresa May as prime minister eased concern that there would be a prolonged political vacuum.
Still, the fragility of the recovery was highlighted on Friday as Bank Of England Chief Economist Andy Haldane said he would probably push for stimulus next month. Sterling slid against all of its 16 major peers on Friday and is still 11 percent weaker versus the dollar than it's level when voting closed.
"At the moment, stability has returned to sterling," said Neil Jones, London-based head of hedge-fund sales at Mizuho Bank Ltd. "Investors are looking at U.K. politics in a slightly different light. The mere fact that there is a leader put in place, has caused quite a lot of comfort."
One-month pound-dollar implied volatility was at 14.02 percent as of 5:08 p.m. London time, according to data compiled by Bloomberg, having peaked at 32 percent three weeks ago. The three-month measure was at 12.60 percent. The spread reached 10 percentage points on June 14, the most since Bloomberg started tracking the data in 1996.
The pound rose 1.8 percent this week to $1.3191, the most since March 4.
The period of relative stability in sterling will probably prove to be "a temporary phenomenon," according to Mizuho's Jones. The Bank of England is set to meet again next month, and the country is still to negotiate the terms of its EU exit.