Almost Everyone Thinks the Pound's Days Are Numbered
July 2, 2016 - Weekly Market Outlook
The pound will fall even further than its three-decade low reached in the immediate aftermath of the Brexit vote, according to almost all the analysts who've changed their forecasts since the referendum.
Of the 36 new predictions in a Bloomberg survey, 32 are for sterling to end the year at or below $1.30, with only two forecasting a rally from current levels. The median estimate is even more bearish at $1.25.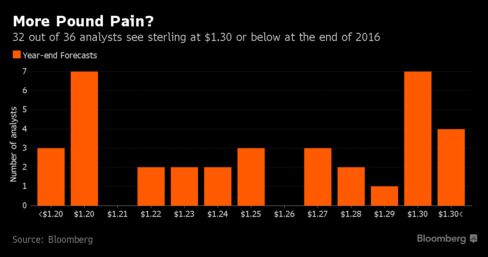 That's 6 percent weaker than the pound's level of $1.3277 at 5 p.m. London time on Friday and would push the currency through the 31-year low of $1.3121 set on June 27 as traders digested the U.K.'s vote to leave the European Union.
Even after a two-day rally earlier in the week, the pound was still down 11 percent versus the dollar since polls closed on June 23. The U.K. currency fell further Thursday and Friday after Bank of England Governor Mark Carney signaled the central bank may ease policy within months to deal with the economic fallout of the vote. It dropped 3 percent last week.
"The pound will continue to bear the brunt of the Brexit result," said Roberto Mialich, a senior foreign-exchange strategist at UniCredit SpA in Milan, who's cut his year-end forecast to $1.20.
The pound tumbled the most on record on June 24 as the referendum plunged the country into political and market turmoil, leading to the resignation of Prime Minister David Cameron.
Economic Concern
While the lower forecasts may be a sign of a lack of confidence in the post-vote economy, a weaker currency — and BOE action — may help cushion the effect of Britain leaving the world's biggest single market. The decline makes U.K. exports cheaper to buy with other currencies, and has already helped the FTSE 100 Index recover from its post-Brexit slump.
Developments in the race to be the next U.K. Conservative Party leader — and therefore prime minister — following Cameron's resignation will be another focus of investors next week. The candidates' pronouncements have moved the pound amid speculation those in the running will make for an easier, or tougher, Brexit.
"Political risks will remain a key focus as the process of selecting the next U.K. prime minister intensifies," said Ned Rumpeltin, European head of currency strategy at Toronto Dominion Bank in London. "Alongside this, the market will need to fine-tune its expectations for the BOE meetings in July and August."