Brexit Woe Splits Europe's Bond Market in Recall of Debt Crisis
June 15, 2016 - Weekly Market Outlook
Britain's European Union referendum is redrawing old lines in the European bond market.
As demand for safety in the run-up to the vote pushed Germany's 10-year yields below zero for the first time on record on Tuesday, those on Spanish two-year notes were turning positive. Meanwhile the yield difference between Italian and German 10-year bonds reached the highest since February. On Wednesday, the reverse was true. Spanish and Italian bonds climbed, while German bunds fell, as demand for haven assets eased.
The split in the market is redolent of moves during the region's debt crisis, a relationship which had been largely disrupted by the European Central Bank's quantitative easing program. While bonds of all euro-area nations have recorded positive returns in the past 12 months, those from Greece, Ireland, Italy, Portugal and Spain, are the only securities to drop in the past week, according to the Bloomberg World Bond Indexes.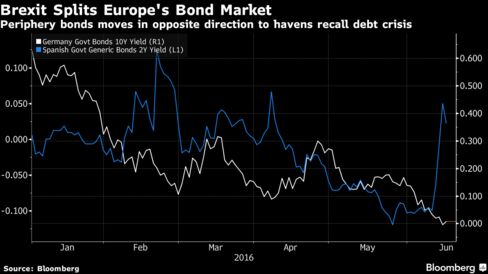 The U.K. vote has revived investors' concerns over peripheral euro-area government securities, as analysts have said that an exit from the EU may increase the perceived risk of further disruption in Europe. A series of polls this week suggested the "Leave" camp is gaining momentum in the referendum debate, with five surveys from four separate companies putting it in the lead.
"Peripheral spreads will continue widening, regardless of the outcome" of the referendum, said Antoine Bouvet, a London-based rates strategist at Mizuho International Plc. "There may be a short-term relief rally if 'Remain' wins, but the political damage done to Europe means that investors will be on the lookout for Euroskepticism becoming more mainstream in many European countries."
Spain's 10-year bond yield dropped four basis points, or 0.04 percentage point, to 1.53 percent as of 11:18 a.m. London time. The price of the 1.95 percent bond due in April 2026 rose 0.33, or 3.30 euros per 1,000-euro ($1,122) face amount, to 103.84. The yield on German 10-year bunds climbed one basis point to 0.008 percent.
The yield difference between Italian and German 10-year bonds was at 1.46 percentage points, after reaching 1.53 on Tuesday, the highest since February.
Spain's two-year yields fell three basis points to 0.02 percent, after climbing 15 basis points in the previous three days. When they first turned negative in 2015, it was one of a number of milestones on the nation's road to recovery from the debt crisis earlier this decade, which had pushed them above 7 percent.