German Bonds Seen Outperforming With Elections Vexing Investors
German government bonds may gain next week along with the rest of the euro region's core debt market as investors seek havens before unprecedented political events later this month.
Britain's referendum on its European Union membership and Spain's repeat elections are approaching, and bonds from Germany, France and the Netherlands have been outperforming their peripheral peers in the past month as analysts reckoned a U.K. vote on June 23 to leave the EU will hurt lower-rated European nations. The price of France's bond maturing in 2066 rose above its par value for the first time since it was issued in April.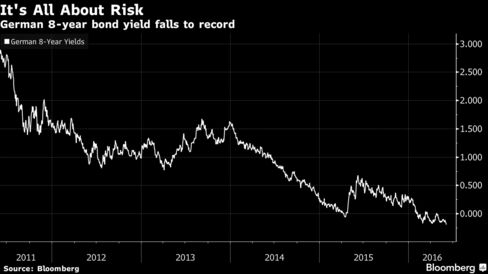 "Our view into next week is bullish on core European government bonds," said Antoine Bouvet, a London-based rates strategist at Mizuho International Plc. "The re-pricing by the market of upcoming event risks in June will support those markets. Both the Spanish elections and the U.K. EU membership referendum vote are bearish factors for the periphery," as results may increase a perceived risk that the euro area breaks up.
The yield on Germany's 10-year bund fell seven basis points, or 0.07 percentage point, to 0.07 percent in the week, as of the 5 p.m. close in London on Friday, having touched 0.065 percent, the lowest since April 2015. The 0.5 percent security due in February 2026 rose 0.68, or 6.80 euros per 1,000-euro ($1,133) face amount, to 104.17.
Italian Spread
Italy's yield spread over the German securities increased five basis points in the week to 1.26 percentage points. Spain's 10-year spread widened six basis points to 1.40 percentage points, the first increase in three weeks.
ICM polls released May 31 by the Guardian newspaper showed a three percentage-point lead for the 'Leave' camp in both the online and telephone surveys. Spain will hold a repeat election on June 26, after the two parties that have taken turns leading the nation since the early 1980s failed to form a government after elections six months ago.
Core European government bonds "should be supported by growing uncertainty" as global risks events such as the U.K. referendum approaches, said Jan Von Gerich, chief strategist at Nordea Bank AB in Helsinki. "The polls are unlikely to give a conclusive picture ahead of the vote, meaning the markets will probably price more uncertainty."
The yields on eight- and nine-year German bonds dropped to records on Friday after a report showed U.S. employers added just 38,000 jobs in May, the fewest since September 2010.