Bond Traders Tell Fed to Wait Until December After Job Data Stun
June 5, 2016 - Weekly Market Outlook
For bond traders, the stalling U.S. job market means the Federal Reserve will probably lift interest rates just once this year, in December.
The nation's employers added workers at the slowest pace in almost six years in May, government data showed Friday. The report fueled a surge in Treasuries, driving yields on two-year notes down the most since September and all but erasing bets on a rate increase at the Fed's June 14-15 meeting.
Though central bankers have signaled that the following gathering, in July, might also be in play, derivatives traders are dubious of that timing as well. The market-implied probability of a July boost dropped by about half Friday, to below 30 percent. For the following meetings, the U.S. presidential election starts to enter the mix. Some traders are looking past the September and November gatherings, in a wager that policy makers won't want decisions on rates to get caught up in electoral politics.
"The Fed will certainly, through speeches, try to keep July in play," said Scott Buchta, head of fixed-income strategy at Brean Capital LLC in New York. "They are still data-dependent, but I don't know how likely they will be to raise rates too close to the presidential election. So there is a shot we get one more hike this year, but it's not quite a done deal."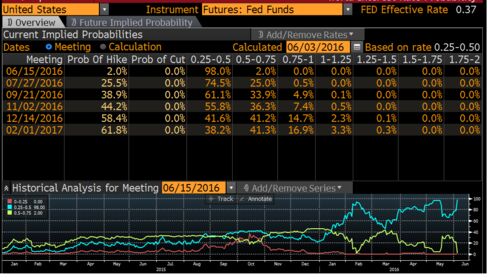 The probability of a quarter-point hike in June plunged below 5 percent Friday, from 22 percent June 2, data compiled by Bloomberg show. It was 30 percent a week ago, after Fed Chair Janet Yellen said officials will raise rates "probably in the coming months" as they look for evidence of labor-market strength and a pickup in inflation.
It isn't until December that traders assign greater than a coin-flip probability to a hike: Futures indicate about a 60 percent chance.
The addition of 38,000 workers last month, the smallest gain since 2010, was less than the most pessimistic forecast in a Bloomberg survey.
Shallow Path
The report also led traders to price in fewer Fed hikes for the years ahead. In two years, the effective fed funds rate will probably rise to just 0.83 percent, from 0.37 percent now, according to Bloomberg data using overnight index swaps. That implies less than two quarter-point increases to the Fed's range in that period.
In their latest quarterly projections, Fed officials in March cut their forecasts for 2016 rate increases to two from four, after liftoff from near zero in December.
Most strategists aren't ready to fully dismiss a July tightening, if certain conditions are met. One is that economic data need to signal job-market strength. The second is that financial markets must get past the U.K.'s June 23 referendum on European Union membership, dubbed Brexit.
"July could still happen if payrolls come around next month, positive data continues and depending on what happens with Brexit," said Justin Lederer, an interest-rate strategist at Cantor Fitzgerald LP, one of the 23 primary dealers.
Beyond that, "it would be a really hard sell for the Fed to potentially raise rates ahead of what could be a very heated election," he said. "If you didn't have the election, the percentages would be a lot higher for September."