Pound May Lose Its Reserve Currency Status on Brexit, S&P Warns
May 25, 2016 - Weekly Market Outlook
A Brexit wouldn't just weaken the pound — it would jeopardize its status as a reserve currency used in world trade, according to S&P Global Ratings.
Sterling lags only the dollar and euro in central banks' holdings, a legacy of Britain's large economy, its trusted legal system and use of the global lingua franca. But a vote to leave the European Union on June 23 may dethrone the pound and would even threaten the nation's top AAA credit rating, says S&P.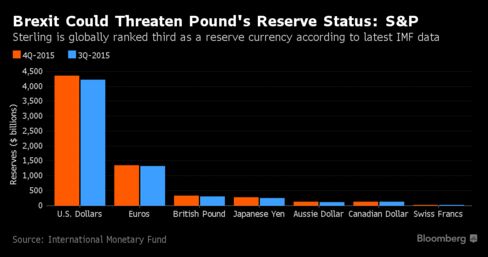 "A U.K. departure from the EU could put sterling's reserve status at risk by deterring foreign direct investment and other capital inflows," London-based analyst Frank Gill wrote. "Sovereigns controlling a reserve currency benefit from extensive external and monetary flexibility, which supports government creditworthiness."
The pound rose 0.5 percent to $1.4705 as of 3 p.m. London time, leaving its decline this year at 0.2 percent. Sterling has rallied in recent weeks on speculation its pre-referendum slide was overdone and as some opinion polls suggest the campaign to keep the U.K. in the world's biggest single market is gaining strength.
Sterling advanced 0.4 percent to 75.81 pence per euro and touched the strongest level in more than three months.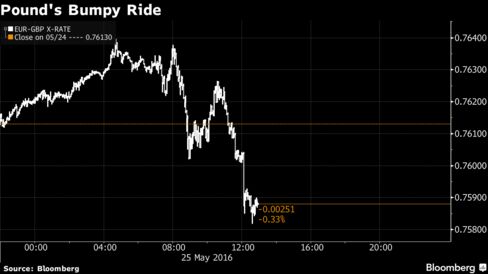 The experts are all but united in saying a Brexit would hurt the economy severely. Quitting could add tens of billions of pounds to U.K. government borrowing and force Chancellor of the Exchequer George Osborne to extend austerity into the next decade, according to the Institute for Fiscal Studies.
Yet the outcome of the vote remains far from certain, and the pound continues to be held hostage by shifts in opinion. A YouGov/Times poll on Tuesday showed the "leave" and "remain" camps neck and neck, while an IG Group survey on Wednesday gave a six percentage-point lead for those wanting to stay in the EU.
"The FX market is ill-prepared for an 'in' vote," said Neil Jones, head of hedge-fund sales at Mizuho Bank Ltd. in London. "We have become so fixated with all the ramifications as to economic direction under a Brexit scenario, we forgot to focus on whether this event will actually occur."