Analysis: Euro Volatility Rises as Markets Heed Fed Data-Dependence Signal
May 23, 2016 - Investments, Weekly Market Outlook
A gauge of expected price swings in the euro rose last week by the most in more than a month after Federal Reserve officials indicated the rate trajectory will be data-dependent, spurring greater scrutiny of the next U.S. jobs report, Bloomberg strategist Vassilis Karamanis writes.
Minutes of the Federal Open Market Committee's April meeting published on May 18 and comments from several Fed officials last week reinforced the central bank's dependence on economic indicators. Meanwhile, euro-dollar two-week volatility rose 113 basis points to end the week at 8.50 percentage points, the biggest increase since the period through April 8.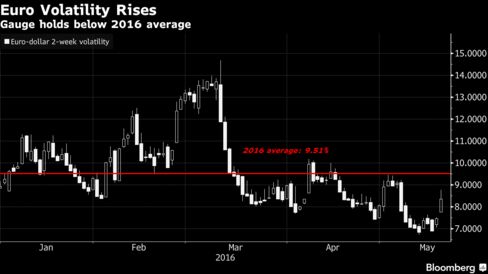 The gauge climbed by up to 131 basis points on Thursday, as market participants reacted to the Fed minutes and as the tenor also started capturing the European Central Bank's June 2 rate decision. It remains at the lower end of its 2016 range, with the year-to-date average currently at 9.51 percentage points. That leaves room for a further rise, possibly to test the May 3 high at 9.46 percentage points.
Two-week breakeven in euro-dollar traded on Friday at 158 dollar pips, while the premium in implied volatility over realized stood at 2.02 percentage points. A rise above 2.58 percentage points would mark the widest gap since March 9.
Euro sentiment versus the greenback, as seen in the two-week 25-delta risk reversal, hit 58 basis points in favor of euro calls over puts on Friday, the most bearish level since March 10. The risk reversal is a measure of market sentiment and positioning.
On Thursday, closing levels on the gauge indicated bearish euro bets reached the highest level in almost seven months.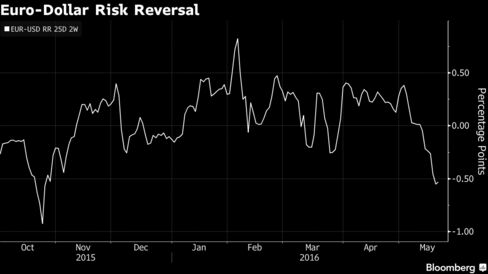 Note: Vassilis Karamanis is an FX and rates strategist who writes for Bloomberg. The observations he makes are his own and are not intended as investment advice.