Euro Rises as ECB's Draghi Surprises Traders Expecting Jawboning
April 21, 2016 - Weekly Market Outlook
The euro rose as European Central Bank President Mario Draghi expressed optimism about inflation and the economy, surprising some investors who had expected him to do more to talk down the single currency.Draghi was speaking in Frankfurt after the ECB kept its main interest rates on hold, as expected by every economist surveyed by Bloomberg. He predicted inflation would pick up in the second half of this year and improve through 2017 to 2018, while pointing to an improvement in euro-zone financing conditions.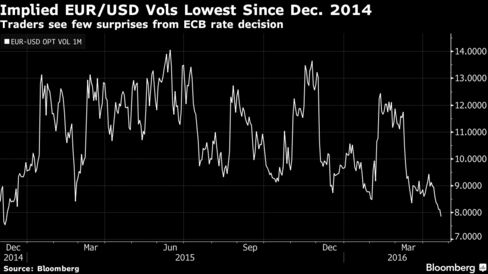 "The gain in the euro was a reaction to the ECB's decision to keep rates on hold and the fact that Draghi has so far refrained from talking about the euro," said Fabrizio Fiorini, chief investment officer at Aletti Gestielle SGR SpA in Milian, the most accurate forecaster of the euro-dollar rate in Bloomberg's latest rankings. "He has changed his approach on foreign exchange. Now it's time for credit easing, not FX easing."
The shared currency reached a session high of $1.1398, a 0.9 percent gain on the day. It was up 0.8 percent at $1.1385 as of 2:15 p.m. London time. The euro was also boosted by worse-than-forecast outlook data from the U.S.
Previous Cuts
The euro is up about 3.5 percent since the last ECB decision on March 10, even though officials at that gathering cut both the main refinancing rate and the deposit rate, and expanded bond purchases under quantitative easing.Its resilience is partly because the Federal Reserve has signaled it will take a gradual approach to policy tightening in the U.S. The ECB also announced Thursday it will also keep its asset-purchase program at 80 billion euros ($91 billion) a month."We believe Draghi's language should continue to be dovish and focus on the credit easing policy rather than the currency," said Reine Bitar, London-based macro strategist at Invesco Asset Management Ltd. There are also signs that the region's economy has stabilized. The jobless rate slid to the lowest level in more than four years in February to 10.3 percent. While that's still more than double the U.S. rate, and masks far higher levels in peripheral member states such as Spain, it's coming down faster than economists had predicted.One-month implied volatility, a measure of anticipated price swings for the euro-dollar rate, fell to the lowest since December 2014 amid expectations that there'd be few concrete measures at Draghi's press conference.Markets were waiting "to see if Draghi will talk the euro down," Neil Jones, London-based head of hedge-fund sales at Mizuho Bank Ltd. in London, said after the rate decision but before the ECB chief's press conference. "The euro traded higher as there was some, albeit limited, expectation of a further move on asset purchases or rates."