Yen Surges to Strongest Since 2014 as Intervention Risk Weighed
April 6, 2016 - Weekly Market Outlook
The yen climbed to the strongest level in 1 1/2 years against the dollar, threatening to undermine the Bank of Japan's push for inflation, a key part of efforts to revive the world's third-biggest economy.
The currency briefly breached 110 per dollar in New York trading, which for some strategists is a key level that heightens the risk of Japanese market intervention. Earlier, Japanese Chief Cabinet Secretary Yoshihide Suga said the government is keeping an eye on foreign-exchange movements. BOJ Governor Haruhiko Kuroda said he'll keep monitoring currency markets and reiterated the potential for more interest-rate cuts. The yen's 9 percent surge this year makes it the best-performing Group-of-10 currency.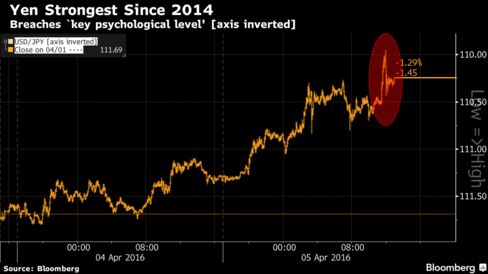 "The yen has been the classic risk-off currency," said Daragh Maher, New York-based head of U.S. currency strategy at HSBC Holdings Plc. It's "the go-to currency when markets are looking a bit nervous."
As global shares tumbled on signs of weakening economic growth, the yen gained against more than a dozen major currencies. It appreciated 1 percent to 110.22 per dollar as of 1:07 p.m. in New York after advancing to 109.95. It gained about 0.9 percent to 125.62 per euro.
Growth Ripple
Currencies of commodity-exporting countries such as the Australian dollar and South African rand fell on concern that global economic growth is slowing. Factory orders in Germany, Europe's largest economy, unexpectedly fell in February, data showed Tuesday.
Analysts weighed in on the prospect for Japanese officials to act to curb yen gains. As of late February, Japan hadn't intervened in currencies since 2011.
HSBC's Maher called 110 per dollar "a key psychological level" that will spark nervousness about intervention because of the damage a stronger currency inflicts on Japanese corporate profits. Sentiment among Japan's large manufacturers was the weakest since mid-2013, a quarterly BOJ survey showed last week.
Other market participants saw less of an imminent risk without signs currency markets were becoming destabilized.
"There is always a fear of intervention, but markets are orderly so I don't expect it," Peter Gorra, head of foreign-exchange trading in New York at BNP Paribas SA, said in an e-mail.
Not Yet
"I don't think we're close to any type of levels where they would be willing to intervene," said Charles St-Arnaud, a senior foreign-exchange strategist at Nomura Holdings Inc. in London. He anticipates a greater chance of intervention below 108 yen.
The yen has climbed in 2016 as signs China is slowing reverberate through the global economy. Tuesday's jump, and the reaction of Japanese officials, shows the challenge faced by nations with haven currencies when markets are in flux.
A weaker currency has been a key ingredient of Kuroda's efforts to boost inflation to 2 percent through monetary stimulus, which has included two rounds of quantitative easing before the introduction of negative rates. The BOJ's benchmark consumer-price index has been mired near zero for a year.
Test Time
"We're structural yen bulls," said Calvin Tse, co-head of U.S. currency strategy at Morgan Stanley in New York. The firm's year-end forecast is for 105 per dollar.
"The problem right now is that we're in an environment where the markets are now starting to test the Bank of Japan" and Prime Minister Shinzo Abe's policies to promote growth, Tse said.
The yen's valuation suggests the rally has further to go, said Lee Hardman, a foreign-exchange strategist at Bank of Tokyo-Mitsubishi UFJ Ltd. in London. It's still cheaper than its five-year average of about 99 yen per dollar.
"The yen is still cheap despite sharp gains this year," Hardman said.