China Inc.'s Record Foreign Deal Spree Shows Fear of Weaker Yuan
April 5, 2016 - Weekly Market Outlook
China Inc. can't buy foreign companies fast enough, and the yuan's trajectory helps explain why.The Chinese currency will weaken 3.3 percent versus the dollar by year-end, a Bloomberg survey of strategists found, with the world's largest foreign-exchange trader Citigroup Inc. forecasting a 7 percent slide through 2017. The projections show the potential cost of delaying instead of dealmaking, and China's firms are getting the message. The value of their offshore acquisitions reached $97.4 billion this year, already 80 percent of 2015's record, data compiled by Bloomberg show."A lot of people in China are saying the yuan is going to weaken against the dollar so they take it out and put money into U.S. dollar investments," Mark Mobius, chairman at the Templeton Emerging Markets Group, said in an interview last week, forecasting "mild" depreciation of the currency. "There's no question that Chinese companies want to become world class, which is why acquisitions make a lot of sense."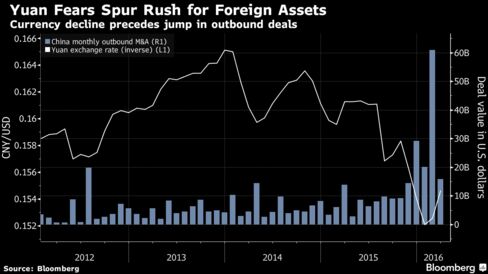 China National Chemical Corp. and Qingdao Haier Co. are among corporations snapping up everything from appliance makers to film studios and chip technology. Even as China's authorities seek to stem a mass exodus of capital, President Xi Jinping's government is encouraging foreign dealmaking to win know-how and global market share."The yuan's moves do act as a driver for Chinese acquirers," said Samson Lo, head of Asian mergers and acquisitions at UBS Group AG. "That's why they're moving forward now, because they're concerned about the longer term."
Weakening Yuan
The yuan stopped being a one-way bet in 2014 after the currency's appreciation against the dollar in all but one year since a peg to the dollar ended in 2005 made it the world's best-performer after the Swiss franc. The yuan lost 6.8 percent in the two years through December, encouraging companies to speed up overseas expansion as growth in the world's second-largest economy slowed.After the worst start to a year in two decades drove the yuan to a 2011 low this January, the currency has climbed 1.9 percent to 6.4699 a dollar. The exchange rate will decline to 6.7 per dollar by year-end, according to the median estimate of 43 strategists in a Bloomberg survey. Citigroup forecasts the yuan will weaken to 6.97 by the end of 2017.
Shopping Spree
For Chinese companies worried about devaluation, "the time to go global is right now," said Zhao Longkai, an associate professor of finance at Peking University's Guanghua School of Management. "Chinese firms will try to hedge the currency, and so it makes sense to diversify some assets abroad."ChemChina's $43 billion purchase of Switzerland's Syngenta AG tops the list of acquisitions this year, followed by the $6 billion buyout of Ingram Micro Inc. by an arm of HNA Group Co. and Haier's $5.4 billion takeover of the appliances business of General Electric Co.Cash held on Chinese corporate balance sheets increased 8 percent to $3.78 trillion in the past two years, according to Bloomberg-compiled data, and mainland-listed companies trade at a 7.7 percent premium to peers in other emerging markets.
Government Dilemma
"Assets are cheap abroad, borrowing costs are low globally, and expectations for further renminbi depreciation are probably encouraging more companies to buy foreign assets," said Ken Hu, chief investment officer of Asia-Pacific fixed income at Invesco Hong Kong Ltd. Still, "the impact on capital outflows will be much smaller than the headline number shows" as foreign deals are often funded overseas.ChemChina got $50 billion in financing for its purchase of Swiss pesticides producer Syngenta, including $35 billion that's being or will be syndicated offshore, people familiar with the matter have said. Chinese offshore borrowers took out $17.3 billion of loans in the first quarter, accounting for about 37 percent of North Asia loan volume, according to Bloomberg-compiled data.Even with some of the money coming from outside the nation's borders, China Inc.'s shopping spree poses a dilemma for authorities trying to stem capital outflows while also making progress on a long-term goal of allowing businesses to go global and become international champions."The Chinese government will probably be reluctant to see too much of this happening because the amount is big, in billions of dollars," Mobius said. "There's a dilemma as on one hand, they want companies to become world class and on the other hand, they don't want to see huge amounts of money flowing out of the country." Mobius echoed Hu's view, saying almost half of the investments will be funded overseas.
Sustainable Trend
After the yuan's first quarterly advance in a year, the case for depreciation hasn't gone away. Chinese economic growth, which clocked in at 6.9 percent in 2015, the slowest in 25 years, will decelerate to 6.5 percent this year and 6.3 percent in 2017, according to forecasts compiled by Bloomberg.A Bloomberg replica of the CFETS RMB Index, which the People's Bank of China uses to track the yuan against 13 exchange rates, fell below 98 for the first time since 2014 last week. Governor Zhou Xiaochuan pledged in February to keep the yuan stable against its peers while increasing volatility versus the dollar."The overseas allocation of Chinese capital will continue, either from a currency diversification or a geographical diversification perspective," said Hao Hong, chief China strategist at Bocom International Holdings Co. in Hong Kong. "It is consistent with the consensus expectation for a weaker yuan ahead."